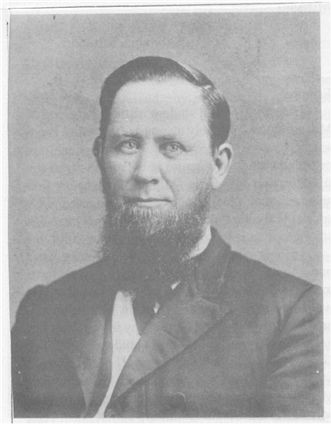 Professor Isaac Asbury Clarke born in Overton County March 22, 1837. Photo courtsey of Carroll County, Arkansas Historical Society journal.
John P. Clarke died on September 7, 1841, and some three years later, his widow, Frances Anderson Clarke, accompanied by her young son, Isaac, who, at that time, was only 6 years of age, moved to Arkansas. Isaac Clarke's early education was received at Professor Ray's (also spelled Rhea's) Academy at Berryville. He enrolled in college at the State University at Columbia, Missouri, in 1860, but left in 1861 to enlist in the Confederate Army where he served until the close of the war.

The 1994 winter issue of the official journal of the Carroll County, Arkansas, Historical Society has this information about Professor Clarke:

"On January 14, 1867, Professor Isaac Asbury Clarke opened what would become the premier educational institution of Northwest Arkansas, and the first class of Clarke's Academy had an enrollment of twenty students. During its life that institution would achieve legendary status as the tenacious determination of Professor Clarke guided it through the tragedy of fire and a time when financial support was almost nonexistent. Students came not only from Carroll County, Arkansas, but from all across Northwest Arkansas and Southwest Missouri in a time when public education did not exist. Without question, Professor Clarke will always be remembered for his dedication to education, but beyond that, he was also a husband and a father.
In May of 2000, an article written by Anita Creech appeared in The Morning News, a newspaper published in Berryville, Arkansas. Parts of the information from that article includes:
"While attending Missouri State University in Columbia, Clarke met Vinnie Ream, the woman who sculpted the Abraham Lincoln statute that now stands in the Capitol Rotunda in Washington, D.C. Clarke left the university in 1861 to enter the Confederate Army. Before then, he wrote several letters in which he expressed dismay over the approaching war. At the time, Clarke was a strict Unionist, nevertheless, he soon joined up with the South. Clarke became a quartermaster for a Cherokee regiment that took part in the battles of Pea Ridge and Honey Springs. He had a great relationship with the Cherokees."
During the time Clarke served in the Civil War, he corresponded on a regular basis with family and friends, and had also written some letters to General Robert E. Lee. Most of his letters have been saved, and at the time The Morning News article was written, Clarke's great-granddaughter, Janet West Clark and husband, Wayne Clark, were in the process of transcribing all these papers. The Morning News article told how the project was going. "Actually, Wayne Clark is undertaking the project, and his last name doesn't end with an "e". Janet thinks she and her husband may be related 'way back somewhere'."
Among the many letters Professor Clarke wrote is one dated May 31, 1863, in the midst of the Civil War, written to his mother. Parts of that letter read as follows:
"My Dear Mother, ... about the first of October I fell sick with typhoid fever, which kept me confined to my bed for two months, and not until spring ushered in warm weather did I fully recover. When lying upon that bed of sickness my mind was much occupied with thoughts of home, and oh, how I longed to be there. ... I am pleased to say my strength has been restored and my health is good. ... Just imagine me the same man unchanged, a little rougher in appearance perhaps, but not in manners. The demoralizing effects of war have not reached me. I have not learned to swear, chew tobacco, get drunk or steal. ... There are five Indian Regiments in the Brigade which Gen. D.H. Cooper commands. The enemy is close by us, just across the Arkansas River. We go over occasionally over and have a little skirmish with them, the particulars of which would not much interest you. We captured about a thousand head of horses and mules from them a few days ago which we considered a pretty good haul. ...Remember me kindly to all my relatives and friends who may be near you. I am, Dear Mother, Your Isaac."
Clarke's correspondence with General Lee are now lost. Janet Clark said she was told that the Lee letters got wet and were spread out on a floor to dry. When servants entered, they scooped up the letters and threw them in the fireplace, thinking they were trash. Clarke was bitterly disappointed at the South's defeat and briefly considered moving to Brazil after the war, as did other Confederate sympathizers. But, 'he didn't have enough money,' said Janet Clark.
Clarke always had money problems, according to his family. He did well until the first school burned down, but things apparently went downhill after that. Janet Clark said her great-grandfather's students, who were not well off themselves, often paid him with a 'bushel of corn.'
Clarke also expressed inconsolable grief in his diary over the death of his wife, Virginia, in 1879. She was killed by a falling tree while vacationing with relatives in Eureka Springs. According to newspaper accounts, Mrs. Clarke was holding her youngest child, Fanny, when a tree fell, but she somehow saved the child's life. The impact, however, drove the stays of Mrs. Clarke's corset into her lungs, puncturing them. She was buried next to Clarke's Academy.
The September, 1997, issue of the Carroll County Historical Quarterly had this account of the accident that took Mrs. Clarke's life: "It pains us to be called upon to record the death of Mrs. Virginia G. Clarke, wife of Prof. I.A. Clarke, at Eureka Springs, Carroll County, Ark, on the 8th day of August, 1879. It seems that the professor's family in company with a number of other visitors, were taking dinner at an outdoor table, when a tree which had been on fire for some time, but which was not supposed to be nearly burned down, was seen to be falling in the direction of the table. The tree fell across the table and struck Mrs. Clarke, so injuring her that she died in a short time.
Wayne Clark, a semi-retired banker, has been transcribing Clarke's diaries and letters for some time. He says he doesn't know how long it will take him to complete the project. A Tulsa woman found one of the diaries in a flea market. She sent to the Carroll County Historical Society which has published some of Clarke's correspondence.
When Isaac Clarke died, he was praised in a newspaper as "one who lived by the Golden Rule." At age 47 Clarke noted in his diary that 'I have tried thus far to do some good.' He is buried in Berryville Memorial Cemetery. According to family folklore, 'The Professor' died with 35 cents in his pocket.
I found no mention of whether there were any other children born to Professor Clarke's parents, or what his father died from at the very young age of 27 years. Another question that comes to my mind is why did Mrs. Clarke choose to move on rather than to stay in this area. I couldn't help but wonder too about the kind of story that would have been written about Professor Clarke had his father lived and the family remained in Overton County. Would Livingston have been the location of the excellent school he founded? More than likely, the answer to that question would have been based on the type of education he received in this area, should the family stayed here. I guess we'll never know for sure about that, but we can certainly say in this situation, Overton County's loss was Carroll County, Arkansas' gain. On December 9, 1993, Professor Isaac A. Clarke was inducted into the Carroll County Historical Hall of Fame, a very deserving tribute to one who made significant contributions to the history of that county.