From England to Livingston, Tennessee - A Journey To Connect
The Oak Hill Methodist Church in the Rickman community is the location of the annual Bilbrey family reunion every year. This year there were at least two new faces among those who attended. This particular husband and wife who came for the first time were in search of information about the Bilbrey family tree. Their names are Paul and Mary Hershberger, and they make their home in Crawfordsville, Indiana. Their search is a little bit different than whatís ordinarily involved in tracing the roots of a family tree. To piece together the life of Paul Hershberger, we must travel back to November 2, 1943, the date he was born in Woking, Surrey County, England. On the date of his birth, he was given the name Paul Andrew Bilbrey. How he later became Paul Andrew Hershberger will be explained in his story.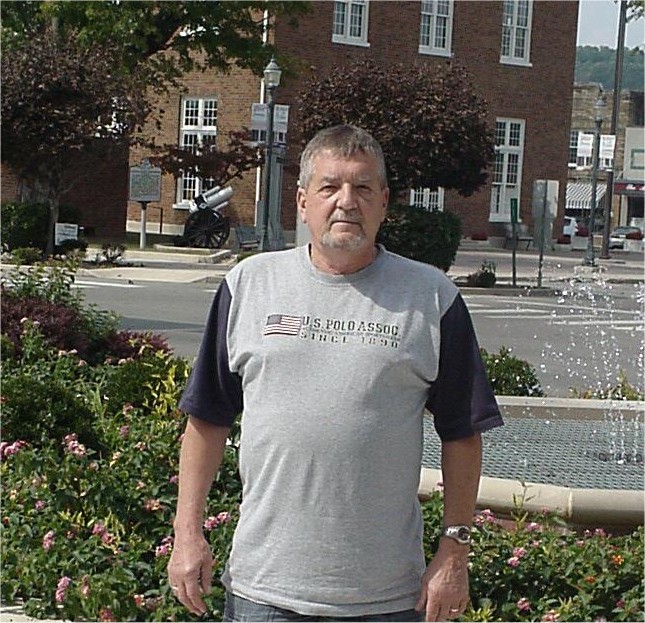 Paul Hershberger poses near the fountain at the Millard Oakley Public Library during a recent visit to Livingston.
We begin Paulís journey with the names of his biological parents, Fred Bilbrey, whose birthplace was Livingston, Tennessee, and Rebecca Sharman, whose home at the time of Paulís birth was in England. Fred Bilbrey was stationed in England during World War II, and while there, he met Rebecca Sharman who later became his wife. A copy of their marriage certificate states that Fred was 31 years old, a bachelor, and a private in the United States Army, No. 35042088. Prior to serving in the military, the marriage certificate gives his occupation as a steel worker. Information on the marriage certificate about Rebecca says that she was a "spinster," even though her age was only 21 years. Her occupation is listed as being a nurse in a Childrenís Nursery. Her home address at that time was 20 First Avenue, West Molesey, Surrey County, England. Fred and Rebeccaís marriage took place on February 2, 1944, some three months after the birth of Paul. His birth certificate indicated he was delivered by Dr. Mary Turnbull, Woking Maternity Home, Surrey, England.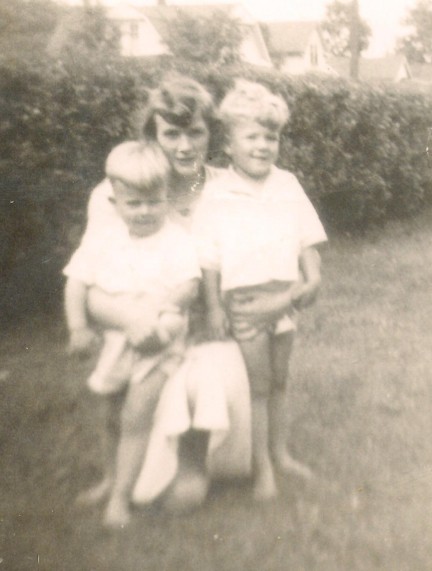 Rebecca Sharman Bilbrey poses with both her sons, Paul, the older one, and Julian, the younger one, while they still lived in England.
On March 10, 1945, some sixteen months later, another son, Julian, was born to Fred and Rebecca Bilbrey while they were still living in England. His birth certificate states that he was delivered by a Sister MacFarlane. When Paul was a little over 2 years old and Julian was around 1 year, Rebecca, along with her sons, boarded the RMS Queen Mary to travel as one of the 12,886 war brides and children who left Europe to travel to the United States during a time period of February through May of 1946. Many years later, Rebecca told Paul how she held his little brother, Julian, in her arms the entire time it took to cross the Atlantic on the RMS Queen Mary, which, more than likely, was at least two to three days.

By October of 1947, Fred and Rebeccaís marriage ended in divorce. But for some time prior to his parents going their separate ways, Paul had been spending a lot of time in the home of George and Reba Hershberger in Fountain County, Indiana. He has a photograph that shows he and his mother, along with George Hershberger, sitting together on the front steps of the Childrenís Nursery where his mother was employed. Eventually, for reasons that were never clearly explained to Paul, he was left with the Hershbergers, and around the year 1948, he was adopted by them. His brother, Julian, stayed with their mother. The only explanation he can remember being told was that the Hershbergers could give him much more than his real mother could. He told me that possibly his mother might not have been allowed to apply for citizenship in the United States if she had decided to give up both her sons, so she chose to keep the younger one. But he doesnít know if that was actually the real reason he was given up for adoption. He said he would like to think it was "because she wanted the best for me." He believes his mother and Julian moved to Ohio after he was left with the Hershbergers. Paul remembers a visit from his mother and little brother once around 1948 or Ď49 and he was asked by the Hershbergers during that visit if he wanted Julian to stay there with him. Since he was mad at Julian because just the day before he had broken Paulís little red wagon, his response was "no." He told me when he looked back at the situation later, he didnít believe that was a fair question to have been asked, and the fact that he answered the way he did bothered him for a long time. Paul remembers periods of time as a child when a great sadness would descend upon him, and when one of his adoptive parents would ask what was wrong, his answer would be that he missed his brother, but now when he looks back, he believes it may have been more a yearning to belong and be a part of a real family. He learned to cook when he was only 12 years old, and did this because his adoptive mother would come home not feeling well from her job as a real estate agent. If she thought Paul had misbehaved, she would often have her husband discipline Paul, and that usually consisted of a what Paul described as "a good whipping with a belt or razor strop." Paul received a high school education at Covington Community school and graduated in 1961. He wanted to enroll at Indiana University to further his education, but instead, joined the Navy where he served for three years. After his tour of duty, Paul went to work for R.R. Donnelley and Sons, Inc., a company that was at one time the worldís largest printer. He started out in the bindery, and later got an apprenticeship in the foundry. When he retired in 2002, he was a pre-press technical analyst.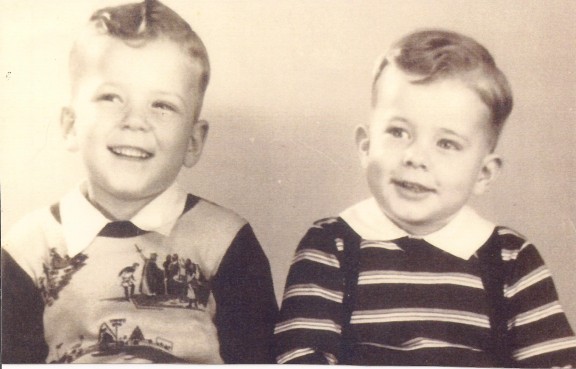 Paul and Julian's photograph was taken not too long before Paul was given up for adoption by his mother.
Paulís biological father, Fred Bilbrey, was born on March 3, 1913, and died July 11, 1983. He was the son of Grover H. Bilbrey and Verna Belle Wright Bilbrey. Even his grandparentsí marriage was not a lasting one. They were married in 1909 and divorced in 1915. His grandmother was left with three children to raise on her own. Paulís father, Fred, had one older sister, Nita, and a younger one named Ruth. Paul had little or no contact at all with his father while he was growing up. Once in 1970, they spent a few days together, and during that visit, Fred told Paul that on one occasion when he was small, he watched him as he played on the playground at the school he attended. Rebecca remarried and had two sons and a daughter by another husband. She died on April 1, 1980, while living in Akron, Ohio. Paul and his brother, Julian, attended the funeral. Among some of her personal things Paul and Julian went through after her death were letters she and Reba, Paulís adoptive mother, had written to each other. Paul and his wife, Mary, visited in Livingston for the first time in August of this year. Their search for relatives took them to the library and then the Overton County Archives where they learned about the Bilbrey family reunion. Paul and Mary came back in October to attend that event. While here for the reunion, Paul and Mary spent a lot of time visiting with his cousin, Bonnie (Seber) Phillips who took them to several cemeteries in this area, beginning with one at Wirmingham where his grandmother, Verna Belle Wright Bilbrey, is buried. Paul has documented his lifeís journey in a notebook that contains many legal documents such as his biological parentsí marriage certificate, his birth certificate, and information contained in newspaper clippings about his adoption. Although his search continues for other information about his fatherís family in Overton County, he believes that at least by visiting the place where part of his family came from, he has now made a small connection to the past that has remained a mystery for most of his life. A quote from Mark Twain is a fitting way to end Paulís story. It says this: "Twenty years from now you will be more disappointed by the things you didn't do than by the ones you did. So throw off the bowlines, sail away from the safe harbor. Catch the trade winds in your sails. Explore. Dream. Discover."