Overton Countyís history is full of people who have accomplished much with their lives, and as time goes on, their contributions seemed to either be forgotten about, or in some cases, never heard of before. Two such men whose lives were directly connected, but in different time periods, fall into the category today of practically never being heard of. The first manís name is Thomas Champlin, an Overton County merchant. In the year 1844, because of the efforts of Mr. Champlin, the Tennessee School for the Blind was established. A Tennessee History Book from the years 1673-1932 tells how Mr. Champlin wanted to provide an educational outlet for his blind children. He secured some raised-print books for them, the first books of the kind in Tennessee. James, the oldest of his children, quickly learned to read and was sent for further education to one of the northern institutions for the blind. Because his father desired to give others the same opportunity to learn to read, he began to teach a few blind children in Nashville to read. In the fall of that year, a public exhibition of the accomplishments of his pupils was given in the First Presbyterian Church. The interest of charitably minded Nashvillians was thus aroused, with the result that a school for the blind was established in October and Champlin was employed as its teacher. This was purely a private institution. Champlin also gave an exhibition before the State Legislature of the ability of his pupils to read, and the members of that body were much impressed. One member wrote: "I have visited the institution of the blind in this city and to my great astonishment find that those who have been so unfortunate as to lose their sight, learn as fast if not faster than those who are able to see." The Legislature took action that resulted in the transformation of Champlinís school into a state institution for the education of the blind.
Many years later, a man by the name of W. Albert Roberts, originally from Clay County, attended the Nashville School for the Blind. His name might easily be confused with the name of a former governor of the state of Tennessee whose home was in Alpine, A. H. Roberts, but from what Iíve been told, they were not related. Raleigh Needham of Livingston passed on some information to me about W. Albert Roberts in the form of some old letters written in the 1930's. The pages of these letters were so badly deteriorated, they were almost to the point of falling completely apart when handled. But the information contained in those worn out letters is priceless as far as historical data goes. One of the most amazing things about W. Albert Roberts is that even though he was blind, he served as Trustee of Overton County during the years 1928-1930. A letter written to Mr. John D. Erwin with the National Press Club in Washington, D.C., by Mr. Charles C. Gore, an attorney in Livingston during that time period, pretty much tells the life story about W. Albert Roberts. Hereís what Mr. Gore wrote:
"Albert Roberts, Trustee of Overton County, Tennessee, age 36 years, has been totally blind since he was 5 years of age, the result of an accident. He is a son of J.F. Roberts, a 76 year old farmer of Clay County, Tennessee. Mr. Roberts traveled 30 miles in a farm wagon to get to a railroad station in order to send Albert to school in Nashville. This was in September, 1899. Albert Roberts graduated at the Tennessee School for the Blind, Nashville, in 1912, after 12 years work. There he learned to make brooms while pursuing his regular course, cane chairs, tune and repair pianos and organs. From all these trades, he has earned his living since leaving school. Roberts first work after leaving school was stacking staves for W.T. Spurrier Stave Co., a mill in Clay County. He gave up this work after a few months because of the calloused condition of his hands which made it next to impossible for him to read. He next began conducting singing school throughout the rural sections of this county and from these he realized enough money to go into the mercantile business, which he did at Sulphur, a small village in this county. Here he was the salesman, doing the weighing, measuring, book-keeping, in fact, he did it all, unaided and made a success of the business too. He next took a position as traveling salesman selling brooms for the Tennessee Commission for the Blind, territory covering 7 states, with splendid success for two years. In April, 1923, he was married to Miss Beatrice Johnson, a daughter of R.T. Johnson, Scr., of Elizabethton, Carter County, Tennessee, and came to Livingston to make this place his permanent home. Mrs. Roberts, previous to her marriage, was employed by the Rehabilitation Department of the State of Tennessee as a home teacher for the blind. She likewise has been blind since a small child. They have a small, cozy comfortable, modern home here equipped with modern conveniences, water, lights, Victrola, radio, piano, library with modern reading all it the Braille system of raised dots, dashes, etc. Roberts made his first race for office of Trustee in the Democratic primary of 1923 and as he says, was miserably defeated, receiving only 26 votes in the entire county, but he was not discouraged. In 1925, he ran again, this time receiving 154 votes, running second, being defeated by A.B. Mitchell. At this time Roberts said his friends saw a gleam of hope for him and resolved to elect him at the next election, which they did in August 1927 by a large majority. He received more votes than any man in Overton County ever received in any Democratic primary election and over one of the countyís strongest and most popular young Democrats. No Republican offered against him after his nomination. He is now collecting the taxes for the first time. He has his tax books made up in the Braille system of writing which is raised dots and dashes, etc., and he knows his business and keeps up with it too.
During his campaign, he rode a mule over the 9th district of this county, a rough mountainous section almost large enough for a county itself, and too rough to get an automobile over. There for a whole week he visited the people at their homes during the day and made speeches in the school houses at night, having large crowds throughout the campaign. On election day in this district 304 votes were cast for Roberts to 44 for his opponent. Of course he is pleased with his office, for it is the best paying office in Overton County. Roberts says that after his first race, his friends tried to discourage him and keep him from running again, even his father told him he had no chance, but he would not give up. While making these races for Trustee, he tuned pianos, made brooms, ran a pop corn machine at the picture show here at nights, anything, he says, to make an honest nickle. That both Mr. Roberts and his wife are most unusual people, there is not a doubt. They are a real asset to the Town of Livingston. Our people love and appreciate them. Talented in music as well as other ways, always in a happy frame of mind, they go about doing good and being helpful in more ways than 90% of the people who are blessed with all five senses. They are always at church services. Mr. Roberts belongs to the Christian Church and his wife to the Baptist, though they attend church together, sometimes one church and then the other. They sing regularly in the churches of the town attending funerals services for all churches and furnishing the music.
Roberts and his wife each use the typewriter and carry on their own official correspondence etc. They do their own housework not even keeping a servant. They go about the streets unaided and alone. They have a host of friends here of which they are very proud. Mrs. Roberts helps in the office, especially on busy days, and they attend to business promptly and in a businesslike way. Roberts is truly a wonderful man of fine good sense and humor, likewise his wife is a talented and highly educated woman. They were both educated at the Tennessee School for the Blind, being with that institution for more than 12 years. There they formed a friendship and a love for each other that they declare will be lifelong.
Their accomplishments have been of their own efforts without financial aid from anyone."
Mr. Goreís letter evidently was written with the hope of having a story about Albert and Beatrice Roberts included in some publication or newspaper connected with the National Press Club in Washington, D.C. A letter dated July 16, 1930 written in reply to Mr. Goreís letter by John D. Erwin in part says: "I forwarded the Albert Roberts story to Mr. Jack Ney, Managing Editor of the Tennessean, and he replied that they had used the identical story some time previously."
The History of Overton County, Tennessee, written by Robert and Mary L. Eldridge includes a paragraph about Albert Roberts that says: "W. Albert Roberts of Livingston, blind since the age of 5, was elected as Trustee of Overton County and served in 1927-28. (These dates conflict with other information Iíve found about the years he served as Trustee.) He made out a set of tax books for the various districts of the county using the Braille system. Mr. Roberts could find anyoneís account of taxes without delay. He was a musician, a good singer and taught singing schools. After serving as Trustee, he studied law in Cumberland Law School and was admitted to the bar. He afterwards served as State Senator for the Tenth Senatorial District of Tennessee. He lived in Donelson and died in Hendersonville."
Raleigh and Nola Needham recall the home of Albert and Beatrice Roberts as being on Goodpasture Street, possibly near where the Ideal Laundry building stood many years later. Through a program sponsored by the WPA, Albert Roberts offered music lessons to students from his home there on Goodpasture Street, and Nola Mae was one of his students.
Iím really happy Raleigh saved these old letters written so many years ago. It would have been so easy just to have pitched them at some point, but thankfully, that didnít happen. Three simple sheets of paper written so long ago containing a summary of someoneís life could so easily have been lost forever. Because of Mr. Goreís letter, weíve been able to look back into the life of someone who made the very best of his life despite the handicapped he had to overcome. The list of past achievers for this area continues to grow as we can now add both Thomas Champlinís and Albert Robertsí names with that ever-growing number in the hope that they, along with their accomplishments, will not be forgotten.
Thanks to Ronald Dishman for providing the information about the founder of the Tennessee School for the Blind along with the Robertsí family picture and census information. Thank you also to Raleigh Needham for sharing the letters without which all we might know about Albert Roberts is that he once served as Trustee for Overton County.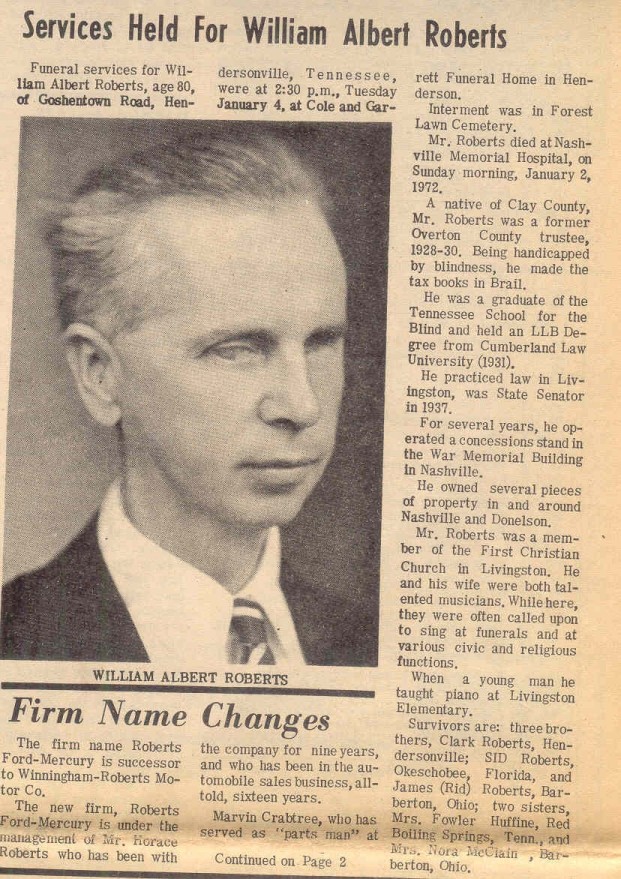 This obituary was taken from the front page of The Overton County News on January 6, 1972