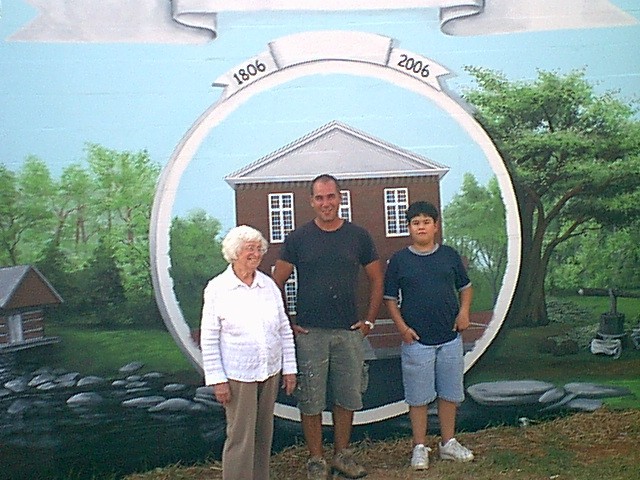 Bill Herren, the mural painter, his son, Dan, of Silver Point, Tn., and Mrs. Claudine Bilbrey, member of the Overton County Historical Museum, pose in front of the mural at the museum. Mrs. Bilbrey advises the mural is the biggest attraction the museum has had since their opening, and it's easy to see why.
The art project taking place on West Broad Street on part of the property of the Overton County Historical Museum has accomplished more than just making a beautiful addition to the Town of Livingston, but has caused many drivers to do something out of the ordinary recently. The posted speed limit has been more than observed on that part of the street due to the artistic talents of Bill Herren of Silver Point, Tennessee. Youíve just gotta slow down in order to see whatís happened next with the wonderful mural he has been creating. I had a chance to talk with Bill recently, and some of the things he shared with me about himself are as follows:
One of four children of Geraldine Herren and the late Bud Herren, Bill received his education at Baxter. He, his wife, Ben, and their son, Dan, live on Billís great-grandfatherís farm in Silver Point. Bill showed an interest in art at a very early age, and as incredible as it might sound, heís never had the first art lesson. Right out of high school, Bill began a career in the tool and die field, but it didnít take too many years to decide working for somebody else really wasnít what he wanted to do with his life. By that time, he had married and started a family. He knew using his artistic talents was how he would really like to make his living, but how to get started was not going to be easy. So in the year 1997, he came up with a plan. Bill thought possibly a way to start would be to contact area churches and ask if having a religious mural painting would be of interest. He began by making a list of approximately 300 churches and their phone numbers. One by one he called the numbers on his list, and eventually, did get a couple of jobs to do. His very first job for a church was one he donated the work for, and that was at Herrenís Chapel in Silver Point. The mural he did there he described as Noahís Ark after the flood. In time, word began to get around about this talented artist who paints lifelike scenes on buildings and walls.
The first couple of winters after Bill began painting for a living were really tough. He told me that during those early years he came to understand completely what the phrase "starving artist" means. And in order to survive, he did have to return to the tool and die job a couple of times before he really got on his feet with his art work. By that time, the Herrenís son, Dan, was around two years old. Prior to Dan becoming old enough to attend school, both Bill and wife, Ben, agreed they did not want to leave their son in day care. It was at that age that Dan began to accompany his father on painting jobs, and heís been right by his fatherís side ever since, except when school is in session. Dan is 10 years old now and does quite a bit of the work too. He sat in for the interview I did and would often comment about some of the jobs theyíve done in the past. Dan impressed me as being an extremely well behaved and polite young man who seems quite happy to be following in his fatherís artistic footsteps.
Bill has put together a book of photographs he shows to prospective customers. Some of the work he has done can be seen at the Putnam County fairgrounds, the corner building near the depot in Cookeville, a laundry mat in McMinnville, the Frenchmenís Market on Burgess Falls Road in Cookeville, and several other buildings in places like Crossville and Smithville. He will be returning in the near future to the Putnam County fairgrounds for an additional large building that will take quite a bit of time to complete. Heís even left his mark on a building in Queens, New York while on a visit there.
He told me he "feels lucky to have this kind of job." Heís able to continue to care for Dan by dropping him off at school each morning and leaving a job he has when itís time to pick him up in the afternoon. If the job isnít too far away, he and Dan sometimes return after school is out to work a few addition hours. According to Bill, in this type of work "youíre limited only by your imagination." A close inspection of the mural heís doing, or any other of the projects heís completed, demonstrates the fact that he is blessed with natural talent and his imagination is hardly ever idle.
I asked Bill if the many interruptions he has from curious people passing by causes problems, to which he was quick to reply that it never bothered him. In fact, he always welcomes anyone who wants to stop by and talk. Meeting new people and taking a few minutes to talk is another thing he says that makes his job so pleasant. And if thereís any doubt about that, just stop by and see for yourself. I guarantee the first thing youíll notice is not just a warm and welcoming smile on Billís face, but a smile thatís real and genuine. It obvious that using his natural talent is exactly what he was intended to do. Bill welcomes inquires about his work and can be reached in Silver Point at 931/858-4153.
Hats off and a standing ovation to Leadership Overton 2005-2006 for sponsoring this project. Members include: Lee Baxter; Sunny Buchanan; Debbie Copeland; Judy Dillon; Nancy Honeycutt; Barbara Keisling; Cynthia Ledbetter; Phillip McCormick; Morris McMaster; Wanda Richardson; and Brenda Warren. Thanks to this groupís idea for their project, Billís mural is something we can all look forward to enjoying for years to come, and will leave a lasting impression on anyone who visits our town.