It was on a pleasant, late September afternoon that I paid a visit to the home of Mrs. Betty Ogletree of Livingston to reminisce about her late husband, Hugh L. Ogletree, Sr., a former teacher in the school system in Overton County. We sat of Betty's front porch on that particular sunshiny afternoon looking back at the life of a well known and respected husband, father, teacher, and very good friend to many people. Our story begins with a look at some ancestors on Mr. Ogletree's mother's side of the family.
The home of James A. Richardson who served as Register of Deeds of Overton County is believed to have once stood on a now vacant lot where Morgan's store and the pool hall were once located. Mr. Richardson served as Register of Deeds during the years 1855-1865. During the Civil War (1861-1865), the Overton County courthouse was burned by Captain John Francis and a small band of Confederate guerillas who came down from Kentucky on a raid. Before the guerillas arrived in Livingston, Mr. Richardson, fearing this very thing might happen, and who was assisted by Frances Goodpasture, carried deed books and other records to his home and buried them in a vault dug in the bottom of a cellar under his house. Thus they were not lost in the fire of 1865 when the courthouse was burned. Because of Mr. Richardson's foresight, Overton County has one of the most valuable collection of deed record books to be found in the Upper Cumberland section of the state. Many of the original land grants are recorded here.
We move forward in time now to the years Albert Benton Ogletree and Lassie (Richardson) Ogletree, parents of Hugh L. Ogletree, Sr., were raising their family of three children. Hugh L. Ogletree, Sr., was the middle child in that family. The first born was a son, A.B., and the youngest, a daughter, Marie. Albert Ogletree owned three large farms in the county with a combined acreage of around 500 acres. In addition to farming, Albert Ogletree was a mail carrier who delivered mail on his route by horseback. It didn't take the son, Hugh, long to figure out the best way to avoid having to chop out corn the rest of his life, which he remembers as being a never ending job, along with the hard work involved in farming, was to get an education. After graduating from high school at Livingston Academy, Mr. Ogletree went north to find work and got a job working in a Good Year plant in Akron, Ohio. He left his job in Akron long enough to serve in the military for a little over three years. After getting out of service, he returned once more to work in Akron. It was because of having a job in Akron that he met Miss Betty June Price, a native of the Buckeye State. Betty worked in the office at the same Good Year plant where Mr. Ogletree was employed. The first time he asked Betty to go out on a date, she turned him down, the reason being she really didn't believe he was a single man like he said he was. The only way he was able to convince her he was telling the truth was by way of a telephone call to an aunt and uncle he was staying while working in Akron. Betty finally agreed she would go out with him, and after a period of time, they were married. Their first child, Diane, was born while they lived in Akron. In order for Mr. Ogletree to get his college education, the family moved to Tennessee and he enrolled at Tennessee Tech on the GI bill. Hugh, Jr. was born while they lived at Tech Village in Cookeville. After Mr. Ogletree graduated from Tech, the family moved to Livingston. The first school where he taught was called Cedar Grove, a small elementary school in the Allons community. His second year of teaching was at Allons Elementary school. Later in his teaching career, he was transferred to Livingston Academy. By then, the family included three additional sons, David Ogletree, Robert Ogletree, and Mark Ogletree. During Mr. Ogletree's years at Allons, he was the boys' basketball coach. Because there was no gymnasium in most grade schools at that time, ball games were played on dirt courts on the playground. Many times, Mr. Ogletree took the kids who played on the Allons basketball teams to the games with him in his car. It was nothing unusual for many of the children he taught over the years to have their lunches paid for by Mr. Ogletree.
Robert Ogletree shared some memories of his father's teaching career. He said, "In the summer months, teachers were not paid. They received a salary only during the months they actually taught. Because of the way the pay system worked then, my father had to get other jobs to support his family during the summer. Sometimes he would go back up north to work in Detroit or Indianapolis. One thing I especially remember about those summers was he would always bring back a nice, used (but brand new to us) car." Breyer's Ice Cream plant here in Livingston was another place he worked during summer months.
Robert also shared this memory of his father: "People who lived in our neighborhood where we grew up didn't have much. I can remember how my father would go to grocery stores around Livingston and buy several items and asked the store owner to deliver the food to many of our neighbors' homes. But he had a special request he always made, and that was that the family he bought the food for not be told who paid for it. He would go on to explain that if it was told, he wouldn't be able to do this again."
Another of Robert's memories was about a test he had to take one day in Mrs. Tucker's class. Robert had not remembered to study for a history test, and as he was riding to school that day with his father, he told him that he wasn't prepared to take the test. Mr. Ogletree asked Robert what book and what chapter the test was on, and by the time they arrived at school, Mr. Ogletree had completed a complete review of the chapter the test covered. Robert made 100 on the test.
Mr. Ogletree's son, Hugh, Jr., remembers how his father was very particular about his clothes and always wanted to look neat and clean. One thing he always did for all his kids was to keep their shoes polished. Granddaughter, Tammy Ogletree Mansell, can remember seeing her Papa mowing the yard one time in a white shirt and tie. Hugh, Jr. also remembers another thing his father made sure his children always got on a regular basis, and that was a good dose of castor oil, and that they also had to take worm medicine. (The way Robert remembers it, Hugh was the only one of the four that really needed the worm medicine.) Their Dad lined the kids up, and one at a time, the dosage was given out. A picture of the faces of those four kids all lined up to get that awful medicine poured down them would be priceless today!
One of Mr. Ogletree's hobbies was an interest in antiques. He opened a small shop on Cross Avenue in Livingston where he both sold and traded in antiques. Through his dealing in the antique world, he also worked as bookkeeper for Charles Reeder, owner of Reeder's Auction on North Church Street. Mr. Floyd Davis and Mr. Ogletree became good friends and shared an interest in antique clocks. Mr. Ogletree often sat up in flea markets with his antique items and other merchandise he had for sale. He often collected what would be quite valuable today in the line of good quality arrowheads.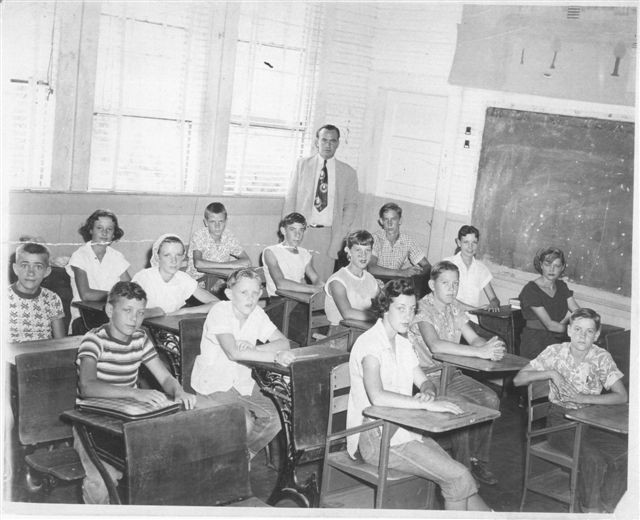 1953-54 Eighth Grade Class at Allons Elementary
Beginning with student nearest to Mr. Ogletree and coming forward toward the front of the room:
First Row: Chester Carmack, Marilyn Bilbrey, Barbara Dale
Second Row: J.W. Hall, Bobby Joe Ferrill, Neda Rose Thompson, Mitchell Upton, Lowell Hunter
Third Row: Carol Zachary, Shelby Maynard, James Smith, Jessie Nell Buck
Last Row: Talmadge, Gene Smith, Joe Holt
Here are some memories shared with me by some of Mr. Ogletree's friends and also former students at Livingston Academy. The first is James A. Thrasher, class of 1963: "I think the first thing that stands out in my mind about Mr. Ogletree was his concern for students. He seemed to have a knack for knowing who needed a little encouragement, and had the ability to bring kids out of their shell. In my case, he helped develop a self confidence in my public speaking ability, a self confidence that spread over to other parts of my life. From my perspective as a poor farm boy, not many teachers had taken much interest in me. I remember Mr Ogletree often talking about the American Dream; that any of us could be anything we wanted to be and that we lived in the greatest land in the world. At the end of some of these speeches, he would concede that he might never become a millionaire, or famous, but he, like us, always had the hope and opportunity. Mr Ogletree was the first teacher I recall who was more interested in getting us to think, as compared to memorizing things. He made American history interesting and wanted us to understand how events in history had effected our country and us, not just knowing an exact date when something happened. He encouraged comments and questions, and was never threatened by them, but saw them as an opportunity to better explain history. His heart was not in classroom discipline, but in encouraging learning. Mr Willie Hugh Bilbrey, along with Mr Ogletree, encouraged me and several others in starting a debating team at LA, and both helped us to develop skills that have lasted for all these years. Looking back more than 44 years since high school, I have fond memories of the influence of Mr. Ogletree, Mr Bilbrey, and some others who had significant influence on my life, and I'm sorry that I never got a chance to tell Mr Ogletree what a big part he had in whatever success I've enjoyed."

John A. Turnbull, class of 61, writes: "Hugh L. Ogletree was my teacher in Civics and American History at Livingston Academy in the late fifties. Mr. Ogletree was not the most arduous taskmaster, but always made us think. He loved to argue, and even more, he loved for his students to argue with him. Mr. Ogletree might start off a class session by saying ... "Boys and girls, boys and girls, socialism leads to communism." Or "the civil war was not about slavery, it was about economics." The class would launch into debates with him and with each other. It was during my junior year in high school, in the midst of one such discussion, that Mr. Ogletree looked me in the eye and said, "Turnbull, you need to become a lawyer." The idea grew in my mind. Mr. Ogletree assured me that I was "mean enough" to be a lawyer. He would tell me of great lawyers in history, and stories of great lawyers here in Livingston and the Upper Cumberland. Tales about Don White, Hillard Roberts, Judge A.F. Officer, Elmer Langford, and others tickled the strings of my mind. In spite of the fact that my preacher father had little respect for the legal profession, I became convinced by Mr. Ogletree that I would best help people as a lawyer. Hugh Ogletree was one of my first clients when I finished law school, passed the bar, and came back to Livingston to practice law. He was my good friend. If it had not been for Hugh Ogletree, it is unlikely that I would have become a lawyer and later a judge. I am grateful to him - he was a real teacher!"

Willie Hugh Bilbrey, fellow teacher and a good friend of Mr. Ogletree shares this: "Hugh and I were very close friends from 1958, when I entered teaching, until his death. I have remained friends with all the family. Hugh was a very unique person. He knew a lot about who was a kin to who in Overton County. He continually studied genealogy. He once told me that he attended many funerals whether he knew the deceased or not. He stated that the families always appreciated this. Of course he was a great conversationalist and may have attended some just to meet people. He never knew a stranger. I remember that he was well liked as a teacher. He always told me that he purchased the first encyclopedias at Allons school. He would let one of his students, Duvone Dale, take a volume home each night just to read. He also prided himself with saving a school bus loaded with students from a terrible wreck. He had gone with a group of students on a class trip to North Carolina and they were coming down the mountain from Monterey. The brakes went out and they were careening down the highway. Hugh was not driving; however, he was seated up front. He told me that he jerked the stick shift into low gear that slowed the bus down. He told me that he later attended a class reunion of those students and when asked to speak, told them that he had saved their class. Hugh and I, along with Mrs. Copeland and Ms. Ledbetter were the first sponsors that took the first Senior Class to Washington D.C. Since this was my first year of teaching, Hugh took the lead in the discipline of the male students. He said this to me: "Mr. Bilbrey, the fewer rules that we make will be the best. Let's just give them a big talk and let them go." I said, "Okay". He did just that. He gathered all the boys together and told them to have a good time and to stay out of trouble. He was right, we did not have one little problem. I remember while we were on that trip, he purchased two antique items and brought them back to Livingston on the bus to sell. Huge was an authority on antiques. He was constantly searching for something old to sell. He was very good at that. I have been in conversation many, many times with Mr. Ogletree. He would get so wrapped up in what he was talking about that he would lose himself. Many times, I have just changed the subject and he would just change the subject with me and keep on talking. He could have conversation on any subject; it did not matter. There is only one Hugh Ogletree and there will never be another. After all these years, I still miss him."

Another friend and co-worker, Wilbur C. Smith, has these memories of Mr. Ogletree: "I became acquainted with Hugh during high school days in 1938 at Livingston Academy when I was a freshman and he was a junior. Hugh was a member of the basketball team in 1937-38-39, and the teams were very successful during those years. Several years later, we became closer friends when we attended Tenn. Tech during the 1970's. We shared ideas concerning education while working at the superintendent's office on projects and traveled much together learning ideas from other school systems. During these trips, I learned much about Hugh's personality, inner feelings, love for the underprivileged, the aged, neglected children, and a father's worries about his family. Once, Hugh told me about a homeless man who was being buried in an open field with only a small number attending and no preacher was available. He became concerned and asked, "Are you going to bury this man without a word being said?" Immediately, he pulled a testament from his coat pocket and read a few verses which satisfied his conscious. This incident proved to me he had an abundance of tenderness in his heart for his fellow man. Hugh was also a person who believed it was more blessed to give than to receive. I always thought he would have given the shirt off his back if needed."

"One would see Hugh and prominent man sitting around Livingston courthouse on Saturdays in the 60's and 70's playing checkers. It's been said it takes a head full of brains to play the game which requires much concentration. In one particular game, Hugh was making the game very challenging for his friend. A man came by the borrow a certain amount of money from Hugh's opposer during the game. Without looking up, he gladly gave the man a bunch of bills. Moments later he asked, "Who was that fellow?" I doubt if Hugh even looked up."

One of the things Mr. Ogletree never did during his lifetime was to see a doctor, but at a very young age of only 55, he suffered a massive heart attack that took his life. Everyone who was well acquainted with Mr. Ogletree thought of him as a kind and caring man, one who always looked out for the less fortunate, be it a neighbor, friend, acquaintance, or a student he had in school. He was a highly respected and well loved teacher in the Overton County school system. Some of the teaching staff he worked with included: Roxie Ledbetter; Albert and Jeanette Smith; Sue Young; Polly Garrison; Juanita Moody; Loretta Qualls; Martha Copeland; Durward Vaughn; Lucille Hyder; Glen Masters; James Cobble; Wayne Brown; Roberta Looper; Katherine Hale; Arley Poston; Margaret Miller; Mary Sadler; Lois Warren; Evelyn Oakley; Margret Frasier; Melvin Johnson; Lee Davis; Mrs. Lee Davis; Nola McDonald; Evie Tucker; Elena Maxwell; Arthur Gore; Coach L.E. Oakley; Willie Hugh Bilbrey; Wilbur C. Smith; James Bilyeu; and Bobby Graves.