Janie (Stonecipher) Stephens shared a story with me that happened to her when she was a child and later, in her adult life, she was surprised to learn how it was viewed by another person. It's a perfect illustration of how a simple act of kindness can impact another person's life. This is how Janie told the story to me:


Many years ago when the Stonecipher family lived on Roberts Street in Livingston, there was an alley on one side of their home that eventually became Henson Street. The alley led to a couple of barns in that area, and also to a small rent house owned at that time by Mrs. Hettie Speck, mother of the late Bland Speck, Sr., and grandmother of Mrs. Avalon Hunter and Bland Speck, Jr. Janie described the little home as having two rooms downstairs and one room upstairs. The house sat near what is today the edge of the Methodist church parking lot, and was also close to the town branch that still runs through that property. Janie recalls a mother and at least two children, a boy and a girl, living in the home at one time. She doesn't remember for sure, but believes the last name of this family living there may have been Lawson. Life for this family couldn't have been an easy one. It was obvious that they just barely got by from one day to the next. Just having a roof over their heads may have been all they had at times. Where their food or clothing came from may often have been from neighbors or family members living elsewhere.

When Janie was small, her brother, Walter, built a playhouse for her in the Stonecipher back yard. The playhouse had windows and a door and was a wonderful place to spend time in. It was a favorite place to play, especially during the summer months. Whatever Janie took out to the playhouse to play with, things like dishes or dolls, she carried back inside each night, just in case it should rain. It was in the playhouse that she and the little girl who lived in Mrs. Hettie's rent house would often play together. The family living in the rent house eventually moved away and the house was at some point torn down. Although Janie doesn't remember what the little girl's name was, she remembers sharing the playhouse and her other toys with her on days that she came to play.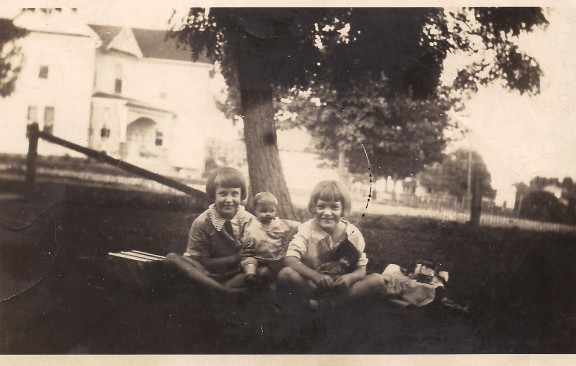 Another friend and playmate of Janie (Stonecipher) Stephens (right), Elizabeth Eastland, (left), play dolls in the front yard of the Stonecipher home on Roberts Street. The Thomas Copeland home can be seen in the background.
Later in life, Janie's working career included many years of employment in the front office of Twin Lakes Telephone Cooperative Corporation. Even though I know she won't want me to include what I have to say next, I will, simply because it's so very true. Everyone who knows Janie will agree with my description of her. She was a real asset for that cooperative in that she has always been known for her most pleasant disposition and sweet personality. She always greeted the customers in a very friendly and welcoming manner, and made lots of friends during the years she worked there. One day while she was busy in the front office, a lady came in to pay her telephone bill. In the process of waiting on this customer, the lady said, "You're Janie, aren't you." Janie replied, "Yes, I am." What the lady said next has left it's mark on Janie's life since then. She went on to explain that she had never forgotten Janie from their childhood days, nor would she ever, because Janie was kind enough to share her dolls with her when she came to play in the Stonecipher backyard. Janie said she was so touched by her words that she failed to find out what her name was or where she lived. Even today, when she recalls the details of that day on the job in the telephone office, tears spring to her eyes. But what would mean more than anything to Janie today is to be able to find once more that little girl she shared her playhouse with when they were children. Janie never imagined that simple act of sharing with someone less fortunate would be something she would be thanked for later. The fact that she extended kindness to a playmate made a tremendous impression on that little girl's life, an act she never forgot. Janie deeply regrets the fact that for whatever reason, either being so completely surprised and overwhelmed by the lady's words, or possibly having a distraction of some kind involving her job, she let her leave the telephone office that day without asking for her name. She's still haunted by this today. Hopefully that person will read this story and get in touch with Janie, and I'll get to write a follow up story. Wouldn't that be great!

I found an article written by Brian L. Weiss, M.D., who says this about simple acts of kindness: "We all dream of a better life in a better society. However, it has become difficult to go through a complete day without becoming disillusioned, disappointed, and drained by the mean-spirited people who often surround us. So many people seem to be interested only in personal gain. They have become rude and arrogant, critical, and insensitive. If we accept our task to be the enlightened beings of our planet, we can begin to change the world. Realistically, I think the changes will occur slowly, as we begin the practice acts of kindness every day, doing little things to help make other people happier. Perhaps the answer is volunteering to help the less fortunate. Perhaps it's something as simple as being nice to someone, doing a kindness without asking for or expecting anything in return."

A perfect ending of this story would be that one day soon Janie's phone will ring and it will be her childhood playmate calling to get in touch with her once more. It could happen, after all, everyone knows, anything's possible!