Mrs. Rose and Billy Morgan Garrett
When I married and moved to the Taylors Crossroads community back in 1963, I eventually made a lot of new acquaintances and formed friendships with folks who had lived there most of their lives. One of the people I really enjoyed getting to know was Mrs. Rosa Garrett, wife of Billy Morgan Garrett. Everybody called her Mrs. Rose. Although I knew Billy Morgan, I was never as well acquainted with him as I was Mrs. Rose. The Garrett home was just over the Pickett County line and about a mile or so from where we lived in Taylors Crossroads. One of the things Mrs. Rose always had, along with a big garden, was a strawberry patch. I especially remember one summer when a neighbor/cousin Frances Sells, wife of Raymond Sells, and I had gone to pick strawberries at Mrs. Roseís. I had my younger son, Brian, with me that day. He was about two years old at the time. That was probably in the early Ď70's, a time when a branch of the military was flying what looked like these gigantic camouflaged airplanes, possibly National Guard, right over that area. These planes were involved in some type of maneuvers, and always flew at a very low altitude. Brian was terrified when those planes came over, and I remember Mrs. Rose getting a good laugh out of the fact that I had to try and pick strawberries with Brian in my lap or hanging around my neck. She was an unforgettable character to say the least. I recently visited with her daughter, Agnes Garrett, and grandson, Greg Murphy, and we reminisced about both Mrs. Rose and Billy Morgan. Here are some of those memories.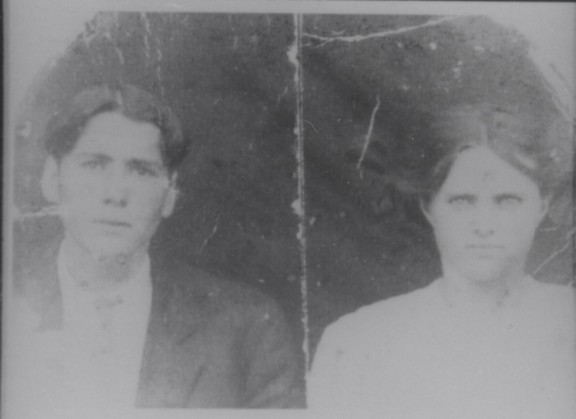 These old photographs of Billy Morgan Garrett and wife Rose were taken from a locket that belonged to her.
Billy Morgan Garrett was born in 1892 and lived to be 92 years old. Rosa (Flowers) Garrett was born in 1894 and lived to be just 20 days shy of 103 years. Both of the Garrett and Flowersí families were from around the Byrdstown area. After they married, Billy Morgan and Mrs. Rose made their home near the river in what has since been called the Albert Hollow of Keisling Bottom, but this was long before Dale Hollow lake was formed. As the years went by, their family grew to include eleven (11) children. The names of the children are: Velma; Barney; Bill; Levin (Dock); Mae; Thurman; Agnes; Daisy; Landous; Emma Lou; and Betty. Both Landous and Betty died at a young age. Daisy and Agnes are the only two children still living today.
Agnes can remember hearing her mother tell the story of the time the house near the river caught on fire. Mrs. Rose was there by herself with the children. One of them was just a baby that she placed on a pallet out in the yard and out of harms way. She then ran and got a ladder and carried buckets of water up and down the ladder until she got the fire put out all by herself.
When Agnes was just a year old, Billy Morgan bought the property that joins the place where the Plain Grove school still stands and built a house for his family. In addition to a front room, there were two bedrooms downstairs, and a big kitchen. The upstairs had two bedrooms. Water was carried from a nearby spring and also from the well at the Plain Grove school house. Agnes described her parents as being very strict when the children were growing up. They didnít go too many places unless their parents went along too. Church played an important role in Billy Morganís life. He was a leader at the Plain Grove church for many years. The family would sometimes all load onto a wagon and head out to Barnes Ridge to attend church meetings there.
The Garrett children didnít have too far to go to attend school since the building was practically in their yard. The teachers Agnes remembers include Alf Keisling, Ardean Keisling Coleman, Como Franklin, Doris Harrison, Ona Amonett, Kermit Conner, Marvin Reagan, and Katherine Bilbrey. Agnes told me she very much enjoyed going to school at Plain Grove. Another name the school and church is known by is Possum Trot.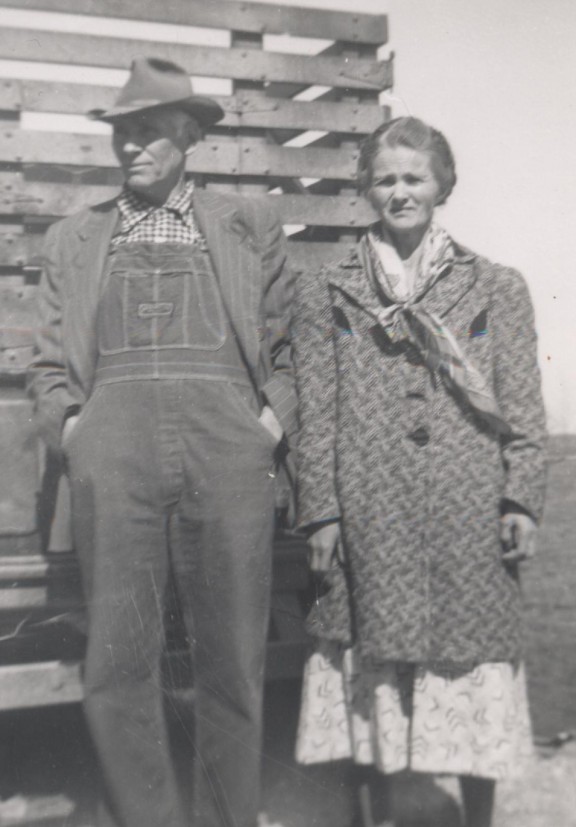 Billy Morgan Garrett and wife Rose were photographed in the early 1950's. The truck in the background belonged to Billy Morgan.
Billy Morgan didnít learn how to drive until his son Dock went to serve in the military. By that time, Dock had a car, but he left it at home when he went into the army. It was with that car that Billy Morgan taught himself to drive. Then in the 1940's, he bought the first truck he owned. I can remember when I first moved to that community seeing Billy Morgan, Dock, Barney, and later, grandson Mark as well, all heading out to Taylors Crossroads in the Ford ton truck he owned then.

Agnes told me that her father was afraid of storms, and when threatening weather might be on the horizon, he would order everyone into the cellar till the danger passed. Agnes said her mother would always say on these occasions, "You all go ahead, Iím going to shut all the windows, then Iíll come on." But she never did. Mrs. Rose was never afraid of stormy weather.

In 1969, son Bill built a new brick home for his parents next door to the one his father built when the children were still young. But even after the new house was finished and ready for the family to move in, Mrs. Rose was reluctant to leave her old home. It was a long time before she finally agreed to move to the new one, and even then, she stayed in the basement. Sons Barney and Dock still lived at home too, and later daughter Emma Lou and her three sons, Ray, Mark, and Greg, moved in as well. Mrs. Rose and Billy Morgan were both very involved in the raising of their three grandsons.

Anytime visitors came to the Garrett house, Mrs. Rose always had something cooking on the wood stove in the basement. She was a really good cook, and when she wasnít in the garden, she could be found working in her flowers, or busy putting up fruits and vegetables using the wood cook stove during gardening season. Even at the age of 92 years, she had not one but two gardens. It was at that time in her life that a stroke set her back for a little while. But being the determined and gritty little woman she had been all her life, she didnít let that hold her back too long. She gave herself therapy, working her hands and fingers until she had good use of them once again. On one occasion, she suffered a broken ankle, but wouldnít give up to see a doctor. She just scooted the injured foot around until it eventually mended. Agnes told me she could remember a time when Dr. Sidwell came from Willow Grove to their house, and while Mrs. Rose sat on a chair out in the back yard, he pulled several jaw teeth for her without the first bit of pain medication.
Mrs. Rose had what I thought was a unique voice. Even though she was small in stature, her voice didnít match her body. When she wanted to make a point during a conversation, it wasnít any problem to hear her. She could get really loud, but not in an unpleasant way at all. And her laughter was just the same. She had a habit of covering her mouth with her apron when that big, booming laughter erupted. Her twinkling eyes always gave her away when she had some kind of mischief on her mind.
Mrs. Rose always knew everything that was going on in the neighborhood. She and Billy Morgan visited often with their neighbors and they in turn always had a lot of company. They were very respected and well thought of folks in their community. On their 71st wedding anniversary, television personalities from Channel 5 in Nashville came to the Garrett home for a special interview. Family members still have tapes of that interview that aired on that special occasion.
Even at the time Mrs. Roseís last birthday she didnít get to celebrate was nearing, she was still up and about everyday. Staying in bed during the daytime was something she absolutely did not believe in. Managing her own money was something else she continued to do right up until the day of her death. Her sharp mind was something that stayed in tact always. Her death came very peacefully just 20 days before she was to 103 years old. She died at home, just the place she would have wanted to be. Grandsons Mark Long and Greg Murphy continue to live in their grandparents home. Grandson Ray Long and his wife live just down the road from the Garrett home. Agnes also lives near the old homeplace, and she, like her mother, prefers to spend most of her time in her basement.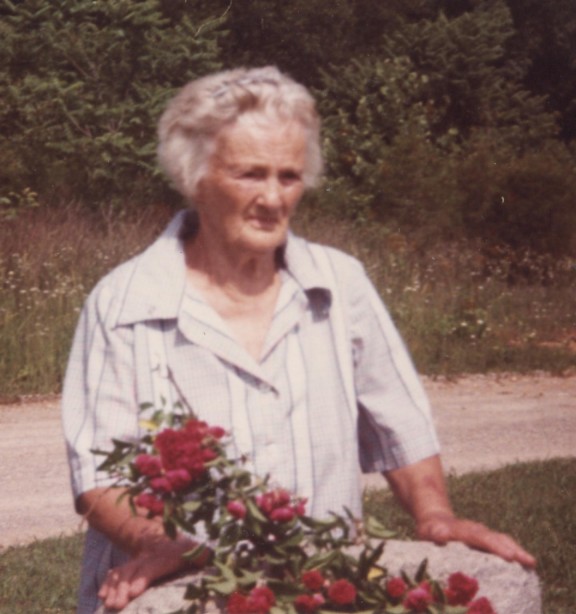 This picture of Mrs. Rose Garrett was taken a few years before she died. Her love of flowers is still evident in her yard today.
Another thing about Mrs. Rose was that visitors rarely ever left her home empty handed. She always wanted to share some type of plant or flower or even something she had cooking on the stove that day. Iíll always remember my visits there as being some very happy times. Iíll bet my friend, Frances, remembers too that day in the strawberry patch. Not only did we leave with some really fine strawberries, but with a bit of insight and a lot of laughter from Mrs. Rose as to just what we could expect as we got older.

Mrs. Rose was a wonderful example of a very devoted wife, mother, and grandmother whose spent most of her life caring for others. Included in the family members left behind were twenty-three grandchildren, along with an untold number of greats, great-greats, etc. Thank you, Mrs. Rose, for touching our lives in the special way you did. Your memory will stay in our hearts forever.