A Great-Granddaughter of Ranter Jess
Robert and Mary Eldridge's book on the history of Overton County is a good source of information about the early years of our county. One chapter tells how an election was held in 1833 to determine the will of the voters concerning the question of the relocation of the county seat from Monroe to Livingston. A fellow by the name of Jesse "Ranter" Eldridge, nicknamed "Ranter Jess," who was said to be very fond of practical jokes, was given credit for Livingston carrying the election by just four votes. The details of this historical event can be found in the Eldridge book for sale at the Overton County Heritage Museum, a place a great-granddaughter of Jesse "Ranter" Eldridge played a very important role in helping to establish. Her name is Claudine (Eldridge) Bilbrey. Here is a look back at her life.
Claudine is the sixth child in a family of ten children. Her parents were James B. Eldridge and wife Junie (Reed) Eldridge. The children in the order of their births were: Arkley; Veachel; Mary; Harry; Geneva; Claudine; Barbara; J.B.; Carson; and Eleen. The Eldridge family lived on a farm near Spring Creek in the Rickman community. The first home they lived in was a log structure with a big stone fireplace. A small room on one side of the log house served as a kitchen, but that room also had a bed where some of the children slept. Two other beds were in the front room with the fireplace. James Eldridge did some farm work when his children were young, but made a living for himself and his family by working in factories around the Nashville area. He came home on weekends. The Eldridge children saw to the chores around the farm, and were responsible for caring for the farms animals, cutting wood for the cook stove and fireplace, and for the planting and raising of crops, along with making a large garden every year.
Claudine attended the first through fourth grades at Netherland, and began school at Rickman when she was in the fifth grade. During her second year of high school at Rickman, she got a job staying with an elderly lady named Mrs. Poteet who suffered from a disease that left her crippled. Mrs. Poteet's illness required daily injections be given to her, and since Claudine was hopeful of someday becoming a nurse, she knew this would be a good opportunity for her to learn a little something about nursing. And not only did she get an idea of what being a nurse might be like, but with the help of Mrs. Poteet, she also learned how to cook while living at the Poteet home.
During her high school years at Rickman, Claudine played on the girls' basketball team. In those days, the court was divided into not two, but three sections. The rules were that players in those three sections (two players per section) could not cross the dividing lines. It was during one of those basketball games that Claudine met Vasco Bilbrey, the person who later became her husband and life partner. They were married by Judge Lee Bohannon at his home in Livingston on September 2, 1938. Their first home was near his parents in the Okalona community. They later moved to the Sidwell Hotel, a boarding house in Cookeville, where Vasco did odd jobs for Mrs. Sidwell, the owner of the hotel, and Claudine helped out in the kitchen.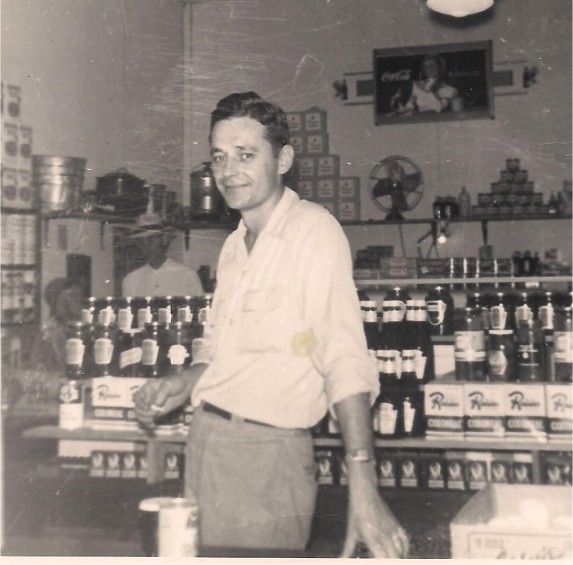 Vasco was associated with several grocery stores during his adult years. The last one was Bilbrey's Grocery, a well-known establishment on the corner of the square in Livingston.

It was around that time that Vasco and a cousin, Sally Copeland, decided to try their hand at the restaurant business. They rented an establishment called "Phil's Diner," a place that was very popular with Tennessee Tech students. Vasco worked there until he was drafted into the United States Navy. After getting out of service some two years later, he got another job in a grocery store in Cookeville, and eventually went to work for Mrs. Williams who owned a grocery store on the corner of Spring and Broad Streets in Livingston. When the building that housed the Williams' grocery store went up for sale, Vasco and Raleigh Needham went in together and bought it. Vasco opened Bilbrey's Grocery on one side of the building, and just next door, Roy and Sally McDonald rented that space where they also ran a grocery business.
Even though some years had passed since Claudine's dream to become a nurse began, she continued to hold out hope that someday she would have that opportunity. When she heard that Dr. H.B. Nevans would be coming back to Livingston after a tour of duty in the military, she asked Mrs. Ann (Nevans) Brown, wife of Dr. Brown and sister of Dr. Nevans, about the possibility of a job with Dr. Nevans. He sent word to Claudine that he wanted to hire her, and in the middle 1940's, she began a career in nursing that turned out to be a long one. She ended up working a total of 38 years as his nurse. When she first began, she was very unsure of herself, and rather than asking Dr. Nevans, she would often take opportunities to ask Dr. Brown questions about things she felt she needed to know. At that time, both their offices were located upstairs over the Standing Stone Grill.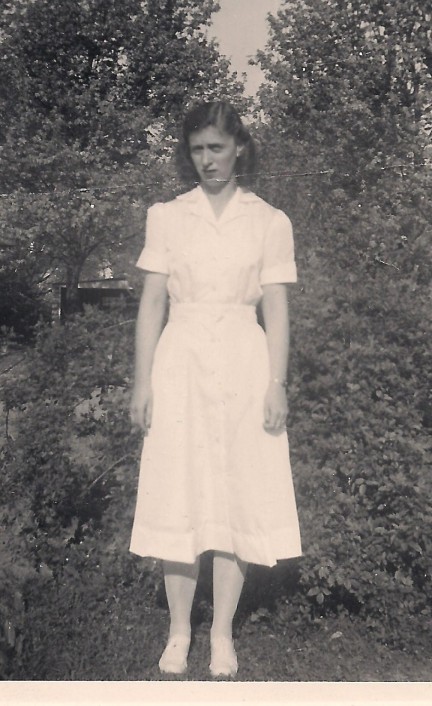 Claudine is shown in the early days of her nursing career. She devoted 38 years of her life as the office nurse for Dr. H.B. Nevans in Livingston.

An episode involving school children is one that stands out clearly in Claudine's mind. A dog that was suspected of having rabies wandered onto the Livingston Grammar School playground, and as a result, some fifteen children who had played with the dog were required to take rabies shots. Those shots had to be given everyday over a period of time which meant Claudine was required to come in even on Sundays to give the injections.
In the early days of her career, she not only did everything involved in being a nurse for a very busy doctor, but was the person who did x-rays, and did the testing for uranalysis. Eventually, Ralph Ledbetter was hired as an x-ray technician which meant that was one less duty she was required to do. For many years, Claudine was the person who did all the office work too.
The year was 1945 when a beautiful little dark haired girl with a smile and eyes that can only be described as so very pretty came into Vasco and Claudine's life. Betty Lou was three years old when they adopted her. Her biological parents were both deceased, and what family she had left could not care for her. Vasco and Claudine raised her in a loving and caring home, but tragically, her life was cut short when she died as a result of an automobile accident on March 17, 1979, at the very young age of only 37. She left behind small three children, Scott, Twila, and Chris Matthews, who grew up in Claudine and Vasco's home. The children's father, Kent Matthews, who also died at an early age, passed away prior to Betty Lou's death.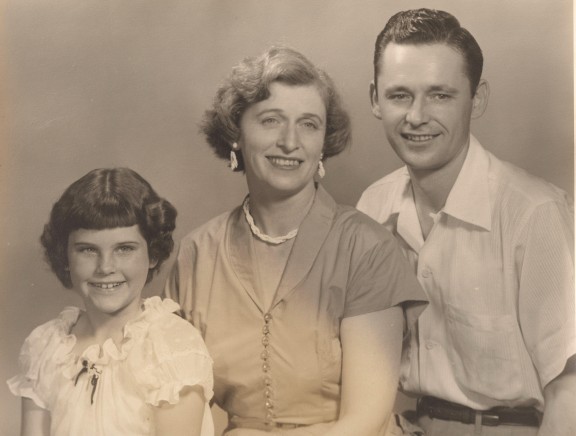 Vasco and Claudine's daughter, Betty Lou, was around four years old when this photograph was taken by Jenny Goolsby Coffman in the 1940's.
As time went by, Claudine knew the day would soon come when Dr. Nevans would be retiring, and when that time came, she knew she would need something to occupy her time. That's when her interest in pottery, working with porcelain, and china painting began. Classes in ceramics also became part of her busy life too.
Enjoying life in the country is something Claudine and Vasco, and then later, the grandchildren, loved to do. Having a farm in the Okalona community allowed the family to spend their summer months there, and they also enjoyed being active members of the Okalona Methodist Church for many years. Eventually, Claudine changed her membership to First United Methodist Church in Livingston where she devoted a tremendous amount of time to the youth of that church. Some of the young people she worked with at the church were in grade school when she began, and she continued on with that same group until they graduated from high school. Another organization she was very involved with was the Dale Hollow Larger Parish. Through her efforts and others involved in the project, a house in the Alpine community was converted as headquarters for camps that were held through the Dale Hollow Larger Parish organization. Some of the work this group accomplished during the time the organization was active included the building of in-ground swimming pool near their headquarters. When the Dale Hollow Larger Parish program ended, the Methodist church continued the same type of work through the Overton Area Group Ministry from the years 1968 until 1988. Claudine was elected as chairperson, and worked along side Ann McKenzie in that ministry.
With Claudine's help, a business still known today as The Emporium began as a way local artisans and crafters could sell their wares. She was a charter member of this organization and maintained a booth there until just a few years ago. She was the last charter member to be actively involved with The Emporium. Claudine has also been an active member of the Overton County Historical Society since its early years.
Perhaps in addition to the many young lives Claudine touched through her work with youth organizations, not to mention the active part she took in establishing the Emporium, and her involvement in the Overton County Historical Society, one of the things that she's most recently dedicated a tremendous amount of time and energy to has been the establishment of the Overton County Heritage Museum. Through her hard work and efforts, along with others members just as dedicated, much of Overton County's past is now preserved so that young and old alike might have the opportunity to know what life was like for those who came this way before us.
It been very interesting to look back at the life of someone who has worked so hard and accomplished so much, all the while, doing what she did so quietly, mostly in the background, and never taking credit for all that she's done. Claudine's family now includes great-grandchildren, and her continued involvement with the museum and other projects she has going makes for a very busy and full life. There's no doubt that if "Ranter Jess" knew about his great-granddaughter's accomplishments, he would be so very proud of her and wouldn't hesitate to tell her so. Thank you, Claudine, not only for sharing your story, but for caring enough to do what you could to ensure our local history will be preserved for years to come so that others might benefit from all that you've done.