A Visit to Trooper Island
On Friday, March 18, 2005, at the invitation of Kentucky State Trooper Craig Sutton, my husband and I were given an exclusive tour of Trooper Island. The invitation came about because Ashley Sutton, Trooper Suttonís daughter, came across the previous Trooper Island story on my website. After showing the story to her father, he in turn contacted me by email, and extended an invitation to come and see the camp.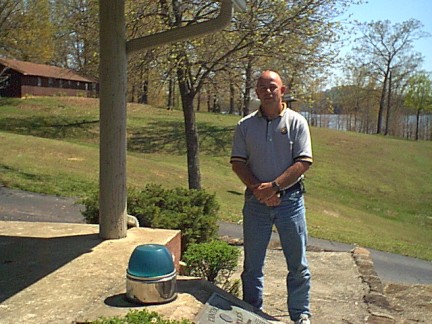 Kentucky State Trooper Craig Sutton, camp director of Trooper Island, stands near the blue light memorial for all Kentucky State Troopers who have lost their lives in the line of duty.
It was a beautifully sunny day for our visit. Trooper Sutton met us at Dale Hollow State Park marina and took us across to the island by boat. It was obvious from the very beginning of our tour that this is quite an operation, and although the word "camp" brings about thoughts of roughing it in the wilderness, Trooper Island camp is far from that description. Even though it is an island, it encompasses approximately 35 to 40 acres. It is very big. Approaching the campground from the boat dock, one of the first things to be seen is a memorial built in honor of all Kentucky State Troopers who have lost their lives in the line of duty. A blue light has been mounted just above the engraved plaque placed there in honor of these troopers. The blue light stays on around the clock to pay tribute to these fallen heroes. Between the camp office and the cafeteria, a large memorial has also been built that has photographs of these 23 Kentucky State Troopers who died in the line of duty.

Facilities the camp has include a chapel housed an A frame building built on the highest point on the island. The island has many very nice new cabins that will sleep 16 campers and 2 trooper/counselors. There is a well equipped kitchen and cafeteria with seating for approximately 90 people. Other buildings include a multipurpose recreation hall used for sports and classes; a laundry; a modern, well-equipped medical facility for minor camping medical emergencies; two storm shelters in the event of threatening weather; and a small boat dock. And probably what amazed me most was the fact that the island has its own water plant as well as a waste water treatment facility. There is also a very modern swimming pool where non-swimmers are taught the basics of swimming and property safety procedures. The island also has a well equipped playground, asphalt basketball courts, a fenced softball field, volleyball courts, and an area for games of horseshoes. Boating classes are offered for learning the proper handling of small boats and boating safety.

Only two of the original ten rustic cabins remain on the island at the present time, and those are primarily used for storage now. In place of the old rustic cabins, new modern facilities have been built to accommodate campers and counselors as well. One other item that attracts much attention from even those passing the island by boat is a 1951 Kentucky Air National Guard F-84 Thunder jet brought to the island by way of helicopter. The approximate date of the jetís arrival is not certain, but is believed to have been in the mid 70's. Prior to becoming a permanent fixture on the island, the jet saw action in the Korean War.

Both boy and girls, ages 10-12, selected by Kentucky State Troopers, attend summer camp, but it is not intended as a place where troubled youth and juvenile offenders are sent for discipline. Additional special weeks of camp are held for the hearing impaired, and young people with medical problems that might not have another chance to attend a camp program. All campers attend at no cost. Funding for Trooper Island camp depends solely upon contributions which are tax deductible. Many participants who have been selected to attend camp on Trooper Island later on return to be counselors for the camp, and in addition, there have been others who have gone on to become Kentucky State Troopers. A plaque bearing those names is displayed on the wall in the cafeteria.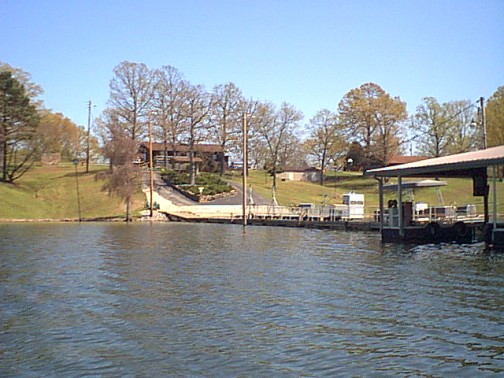 Approaching Trooper Island, several building are visible from the boat dock.
As we approached the island by boat, a large number of deer could be seen grazing near the chapel. Deer are not uncommon visitors to the island, but must get there by swimming across a shallow inlet. As we made our way around the island, we observed this group of deer swimming back across to a neighboring shore.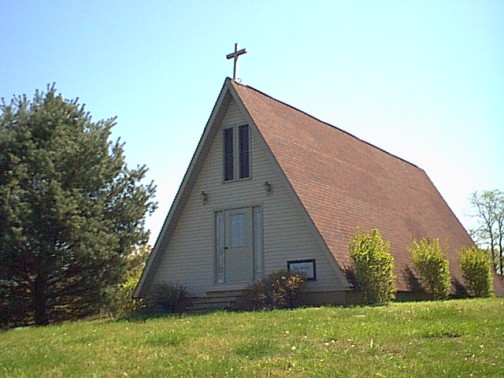 The small chapel, built on the highest point of the Trooper Island, is used for church services by campers, and is often used for wedding ceremonies.
During our visit, we were treated to lunch in the cafeteria prepared by the camp cook, Sharon Braswell, who has held that position for the past 12 years. Both of Sharonís parents, Warren and Maida Wallace, now retired, were also employees of the camp in the early days of its operation. Mr. Wallace worked in maintenance for 33 years and Mrs. Wallace was head cook for 28 years.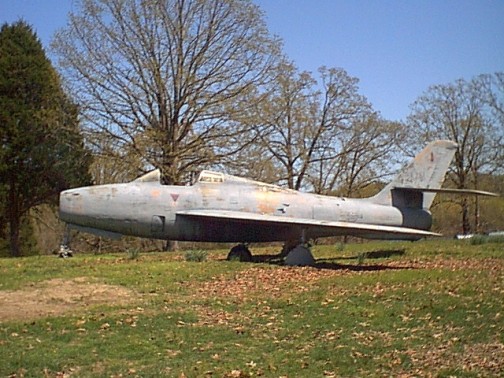 The 1951 Kentucky Air National Guard F-84 Thunderjet, used during the Korean War, has made its home on Trooper Island for many years now.
Trooper Sutton began serving as camp director in November of 2004. He and his family make their home in London, Kentucky. The family pet, a big very friendly sandy colored dog named Boomer, accompanies them on weekend visits to the island during the months camp is not in session. The expression "you lucky dog" certainly applies to Boomer who has the entire island to explore and run around on.
On April 15, 2005, we made a return trip to the island especially to make some photographs. One of the maintenance employees of Trooper Island, Jeff Pickens, who has relatives in Overton County, chauffeured us across the lake. Jeff, who began his employment there at the age of 15, has devoted 20 years of service on the island. In spite of the fact that each day we visited were during times when both Trooper Sutton and Jeff were busy with preparations for the beginning of camping season, we were given the red carpet treatment and made to feel very welcome on both occasions.
We were quite impressed with the whole operation of the camp, and to know that despite the fact that the only access to the camp is by water, a completely modern and up to date facility is run there. We sincerely thank Trooper Sutton, his wife, Lisa, and daughter, Ashley, along with camp cook Sharon Braswell, and Jeff Pickens for the hospitality shown to us on both our visits. Both days we spent there were very enjoyable as well as being educational trips that we were honored to have had the opportunity to experience.