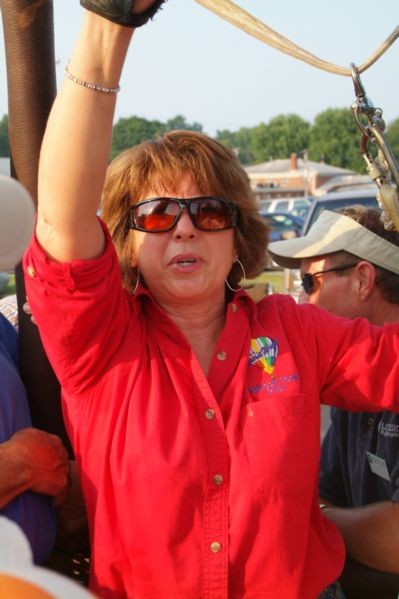 According to information I was given this past Saturday afternoon, the sport of ballooning began in 1783 in France. That information was given to me by hot air balloon pilot Kathy Lee of Glasgow, Kentucky, who participated in the grand opening of Captured Forever photography studio on East Main Street here in Livingston. Robin Peek, along with her husband, Mark, are the owners of the studio, and through a search Robin made on the internet in a quest to find a hot air balloonist, she located Kathy Leeís website and contacted her.

Here is some background information about the lady pilot of the hot air balloon named SpiritWind. In the early 1990's, Kathy attended a hot air balloon festival held in Asheville, North Carolina, called Belle Chere. Thatís when it all began. Although an area where the balloons were being laid out and prepared for lift off was roped off and supposed to be off limits to onlookers, Kathy crossed over the lines to get a closer look at what all went on prior to the balloons becoming airborne. Her interest was so obvious that she was asked to help, and thatís when she became a crew member. From that day on, she continued work as a crew member at hot air balloon events. But there was just one problem. She was afraid of heights, and because of this fear, she never left the ground. She only participated in the preparation work. She declined every opportunity she had to fly, and was content to just be a ground crew member. Eventually the desire to fly and get her very own balloon helped her to overcome her fears, and she, at long last, experienced the thrill of flying. In 1994, she began her training to become a hot air balloon pilot. In order to become an FAA certified commercial pilot, it is necessary to complete at least 35 hours of flying time.
The very colorful balloon was quite a spectacular sight in the parking lot of First National Bank on East Main Street late Saturday afternoon. The balloon alone stands 60 feet tall after being inflated with propane, and with the basket, it reaches the enormous height of 75 feet. According to Kathy, the balloon is made of nylon fabric thatís treated with a heat resistance substance. The life of a balloon is 500 to 700 hours, and it must pass an annual inspection each year. Hot air balloon pilots must also pass a bi-annual flight check that includes what to do in emergency situations.
Kathyís love of hot air ballooning takes her to many different states and even to Canada to participate in events scheduled at various times of the year. Some of the states where international festivals are held include New Mexico, Texas, Florida, and Indiana.
Working as a registered nurse in T.J. Samson hospital in Glasgow is where Kathy can be found during the week, but many afternoons and weekends, she heads out in her van and trailer loaded with all the necessary equipment to set sail in SpiritWind. She told me her hobby of hot air ballooning "is not cheap, but itís my passion." The cost of just the balloon itself can run anywhere from $25,000.00 and up.
The afternoon for the grand opening turned out to be very disappointing to those lined up awaiting a chance to see what its like to go up in a hot air balloon. After the grueling and lengthy task of preparing the balloon for inflation was completed, for which several volunteers were on hand to help with, Kathy determined the windy conditions would prevent any rides. Very precise procedures must be followed during the process of deflating the balloon and preparing it to be packed away until the next event. And one such event coming up that Kathy will attend in September is the Big South Fork Fly-In to be held at the airport in Oneida, Tennessee. Should anyone want further information about hot air ballooning, Kathy can be contacted through her website at www.spiritwindballoon.com.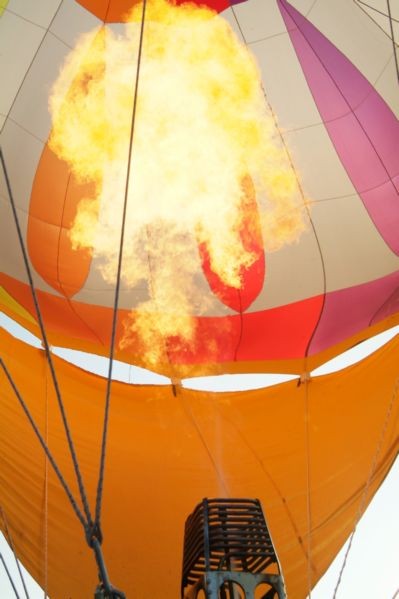 In explaining why she chose the name SpiritWind for her balloon, Kathy says she believes if weíre willing, Godís spirit can come into our lives and flow through us and on to others. But we must allow His spirit in our lives first. Being able to share this belief with other is very important to her. She includes on her business cards a reference to the Bible verse found in Zechariah 4:6 which says: "Not by might, nor by power, but by my spirit, said the Lords of hosts." Her church membership is with Hillview Baptist Church in Bowling Green.
Although Kathy traveled to Livingston from Glasgow alone, and relied completely on local volunteers who were totally unfamiliar with hot air balloons to help with the preparation work, she did an amazing job directing those helping while doing quite a bit of the work herself. It was very interesting to sit and watch the whole procedure. Maybe next time the wind will cooperate and those who are brave enough to leave the ground can go up, up and away in Kathyís beautiful balloon.