Vess Maynord
Heard any good fish tales lately? When I hear that question, I never fail to think about my brother-in-law, Tommy Gray. He was an expert at telling not just fish tales, but stories on just about any topic imaginable. We all still miss Tommy and wife, Toodles, very much. Anyone who knew them knew they were quite a couple, but thatís another story entirely.

I read a fish tale recently that was told quite a number of years ago, but Iím positive it wasnít anything made up or exaggerated. It was told by the very first Game and Fish officer this area had, a fellow by the name of Vess Maynord. He began his career with the Game and Fish Services in 1938. In an article published in the August 1959 issue of "The Tennessee Conservationist," Ernest Conner, Jr., Information Representative with the Tennessee Game and Fish Commission, wrote about the long time career of Mr. Maynord. But first, the fish tale which was also in the article.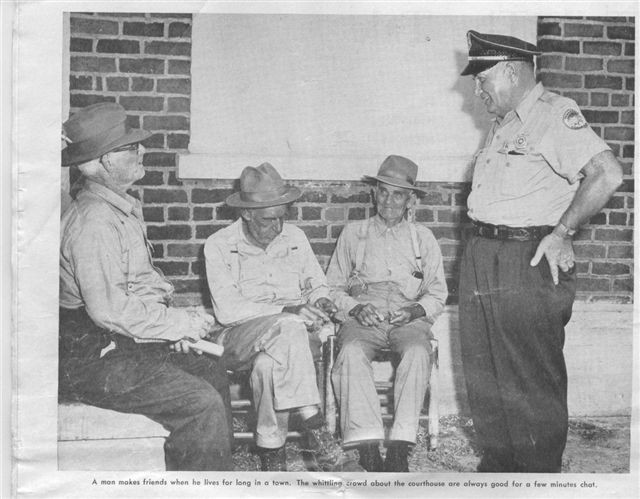 Vess Maynord visits with the fellows who once gathered around the Overton County courthouse to whittle the day away.
It seems that Mr. Maynord caught a man gigging in a nearby creek, but before he discovered this fellow, he found two tote sacks full of fish. When he did locate the fisherman, the man had another sack nearly full of fish, which consisted of mostly suckers. The offender was carried before the magistrate and made to pay a fine. After the case was closed, the fisherman asked what would happen to the fish he had caught. Since he had paid the fine, it was then determined that he would also be permitted to keep the fish. But before the day was over, the man figured an ingenious way of getting back the money he had paid out as the fine. Since it was Saturday and Livingston was crowded, he decided to peddle the fish. And as the story goes, he rode around town on his mule all afternoon selling fish. It seems that he sold more than enough to pay the fine, but so far as is known, that was his last gigging trip.
That was just one of several stories included in the very informative article about Mr. Maynord. At the time the article was written, he had served as a member of the Game and Fish services for 21 years. But his background wasnít just limited to his job as a game warden. Prior to his taking a job with the Game and Fish services, he was employed at Standing Stone Park. Also at different times in his life, he once owned a restaurant, a creamery, and a grocery store. And from a very early age, music was always a very important part of his life. One of the things Mr. Maynord and his brother, Noah, did when they were very small was playing preacher and song leader. Noah Maynord pretended to preach while standing on a stump, and Vess Maynord would lead the singing. And ironically, Noah Maynord did go on in life to become a minister, and Vess became a song leader. In 1930, a newspaper article included a picture of members of Livingstonís Band under the direction of Albert I. Cinna. Members shown in that picture including Vess Maynord were: Mack B. Smith; Cecil E. Rowe; Syndey Bilbrey; Edyth Windle; Gwendolyn McDonald; Ira Speck; Opal Webb; Lester Sanders; Jack Hargrove; Claryce Smith; Kenneth Copeland; Lerion Walters; Leilabel Officer; Mabel Bilbrey; J. Horace Keisling; Francis Copeland; Aaron Ledbetter; Gradis Winningham; and Lucy Price Mitchell. In 1934, the Livingston Band was reorganized with Mr. Maynord serving as president. Playing taps for military funerals was something Mr. Maynard was often called on to do. He also served as music director at the Allons Baptist Church for many years. Traveling around this area conducting music schools in many of the local communities was something else he did. He taught most all of his eight children to sing, and once a month, the family attended singing conventions held at schools and churches all around this area. Sometimes the children would sing solos, and other times they would make up a quartet, or two of them would do a duet. Margie was so small when she went to these musical gathering to sing, she often stood on a chair so she could be seen by those in the audience. The youngest son, Kimble, followed in his fatherís footsteps, and he too served as choir director at the Allons Baptist Church.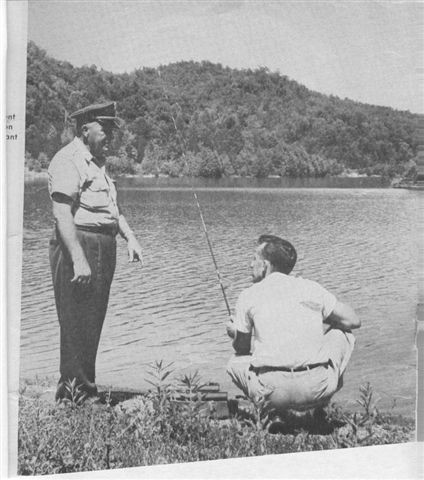 Fishermen and hunters were all well acquainted with Vess Maynord, this area's very first game warden.
Vess Maynord was born at Hunters Cove in Overton County on January 31, 1896, the son of Mr. and Mrs. Brankley Maynord. He was married to Johanna Hunter, daughter of Burris and Tina Hunter. Johanna Maynord died at the age of 42, a victim of cancer. Only two of those eight children had left home at the time of their motherís death. There were four boys and four girls, and their names are: Doy; Donnie; Arta; Dean; Betty; Margie; Kedith; and Kimble. Mrs. Maynordís sister, Josie Hunter, was very instrumental in helping her brother-in-law take care of the smaller children while they were growing up. Josie Hunter was employed at Livingston Dry Goods on the square in Livingston for many years. Johanna Maynordís had one request before she died, and that was her children would continue to be very involved in church, and that request was certainly fulfilled by her husband. Although his job as game warden sometimes prevented him from attending church with his family, the oldest girls always saw that the Maynord children were in church those Sundays their father could not attend.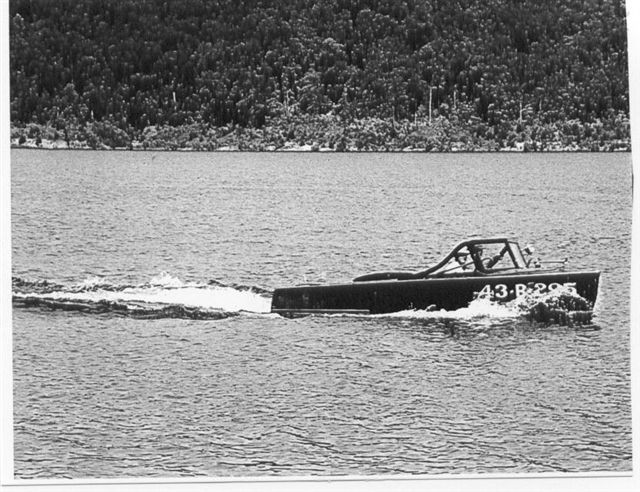 The state provided a boat for Mr. Maynord's use in his job with the Game and Fish Services. The younger Maynord children all looked forward to a ride in the boat now and then with their father.
The Maynord family had what I consider a different and unusual kind of tradition at Christmas time. Straight back chairs were lined up, one for every member of the family. On the seat of each chair, each person placed a pair of his/her shoes. Placing the shoes on the chairs was the way to tell whose gifts were whose. On the back of the chair, a Christmas stocking was hung. When Santa Claus came, he placed gifts for each person in the family on the chairs, in the shoes, and sometimes on the floor near each chair. Each Christmas stocking was filled too. A big aromatic cedar tree stood in the corner of the living room with presents underneath. After the excitement of seeing what gifts Santa had left, the family enjoyed a big Christmas breakfast together. Then came the opening of the presents. Margie described the holiday season as one they all very much enjoyed.

Even though the Maynord family home was in the Allons community, a trip to Livingston was always something to get excited about. Another thing the younger Maynord children really looked forward to was going out on the boat with their father. On these excursions, each child that went along got a turn at steering the boat.

Mr. Maynord was a very well known and a highly respected citizen of this area, and in the article, he is described as being acquainted with ninety-five to ninety-nine percent of the people in Overton County, along with a large percentage of those in surrounding counties. For a number of years, he worked Pickett, Clay, Fentress, Jackson and Putnam counties as a district. He described his job as mostly done on foot. He told how he had walked creeks from end to end, and on occasion found as many as twelve to fifteen violations by the time he got to the mouth of a creek. He worked the Obey river many a day before Dale Hollow was ever built. He recalled one occasion when he apprehended sixteen seiners. They were seining down behind a high bank, so he slipped out on the edge of a bank to watch. When these fellows were finished, they had to come over the bank, and luckily, they came up one or two at a time. When they got to the top of the bank, Mr. Maynord just politely asked them to have a seat and wait for the others. Some managed to escape, but a total of 16 offenders were apprehended on that occasion.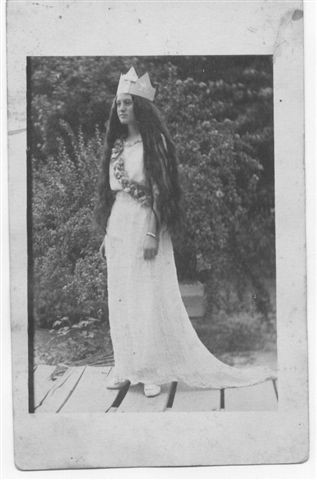 Mrs. Johanna (Hunter) Maynord, is shown here following a beauty contest she entered and won. Her age and other details about the contest are unknown.
He also told about another time when he was sitting on a rail fence listening for out-of-season hunters when he was approached by a man who drove up in a wagon. The man demanded to know what he was doing on his sonís property. He ordered Mr. Maynord off the property immediately and to back up what he said, he turned and picked up a big wrench that was in the wagon. The fellow had been drinking, and when he saw the holster and pistol on Mr. Maynordís side, he lost no time getting his team of horses turned around and headed in the other direction. Mr. Maynord said he didnít think the man really meant any harm.

Itís quite obvious that Vess Maynord will be remembered as a very dedicated wildlife law enforcement officer who was highly respected by everyone who knew him, and that number included most everyone in this county at that time. Margie described her father as someone who never scolded his children, and never had to discipline them by spanking either. Anytime he had a problem with one of the sons or daughters, he just sat down with that child and talked things over with that one, and any problem was worked out that way. She told me they all knew they were very loved and cared for in spite of the fact that their father had the responsibility of raising the smaller children without their mother.

Vess Maynord passed away at the age of 66 years. Jo Melton, a correspondent from the Taylors Crossroads Community for The Livingston Enterprise at the time Mr. Maynord died, had this to say about his passing: "Our sympathy is extended to the family of Vess Maynord who passed away on June 20th. Most will remember him as a game officer, but Iíll always think of his wonderful singing voice as another one added to Heavenís choir." A fitting tribute to a man who always did his best, whether on the job, or teaching music, or just being a wonderfully kind and loving father, dedicated to being the very best parent he could possibly be to all his children.