The big city of Chicago was the destination of two young people who were looking for work, and not only found jobs there, but found each other, and have been happily married for a little over 50 years now.
Madeline Hamilton, the second of eight children, two boys and six girls, and the daughter of Willie and Maudie Hamilton, grew up in the coal mining area of Teaberry, KY. The name Madeline was later shortened to Maggie. Maggie's father was given a spot of ground by his father, and it was there he built a house from logs for a total cost of $75. He built the home even before he met and married, Maggie's mother, Maudie.
When Maggie was ready to leave home and go in search of a job, her father told her she could stay in Chicago for two weeks, and after that period of time, she would have to come back home. What he didn't know was that when she did come back, it would be with a man whom she would spend the rest of her life with.
George Wright was one of 11 children who grew up on a farm near the Wirmingham Community of Overton County. His parents were Houston and Kellie (Worley) Wright, and George was the fifth child in a family of six boys and five girls. George told me his father never owned a car while the children were growing up, and that they all helped with the chores of farm life, such as milking the cows, feeding pigs, and growing a garden. Their family had a ritual each night that no matter what, each one had to have clean feet before getting into bed. No one could go to bed with dirty feet. Games the kids in his family loved to play were kick the can, and Annie Over The House. When George reached the age to leave home to look for work, it was to Chicago that he too journeyed.
As destiny would have it, and with the help of Maggie's cousin's aunt, the young couple met, and in Maggie's words, it was love at first sight. They dated for three months, and a lot of their courting time was spent at the beach in Chicago, where they went most every day. Maggie said they spent a lot of time talking on those days at the beach, and they felt like they were well acquainted by the time the three months passed since they met, so they decided to get married. They wanted their wedding to take place in Tennessee, so they returned to the home of George's parents, and under a pear tree in the yard of the Wright home, the happy young couple was wed. Maggie had met only one member of George's family before coming to Tennessee for the wedding, and she told me she was scared to death at the thoughts of going to a place where she didn't know anyone other than George's brother, Jim. And along with having to meet all of George's family, she had been warned in advance that Mr. Wright did not approve of girls wearing shorts. On the trip to Tennessee, Maggie had on pants, and while travelling, she spilled a drink on them. She had to change, and when she did, she put on shorts, even though she knew about Mr. Wright's disapproval of girls wearing shorts. She decided to take a chance on meeting her prospective father-in-law wearing something he didn't approve of, but she told me it worked out alright, that he didn't say anything to her, and that over the years, they always had a very good relationship.
Maggie's parents didn't own a car, so they were not able to attend the wedding.
On the day of the wedding, Maggie dressed for the occasion in an upstairs bedroom of the Wright home. She came down the stairs and out on the front porch, and proceeded to go down the steps of the front porch to join the wedding party who were waiting for her under the old pear tree in the yard. As she started down the steps of the porch, she missed a step and fell into the yard. She said she thought it seemed like forever before George got there to help her up, and of course it goes without saying that she was terribly embarrassed by it all. But the wedding proceeded, and after the ceremony, the happy couple left to spend a honeymoon at Cedar Hill Resort on Dale Hollow Lake near Celina.
Of all 11 of the Wright children, this was the only wedding George's parents attended, and Maggie said since this one was held in their yard, they didn't have much choice about going to it. A car belonging to George's brother, Jim, was used for the trip from Chicago to Tennessee for the wedding, and the honeymoon was in Clay County. The newly married couple had their first meal as man and wife at a little café in Celina.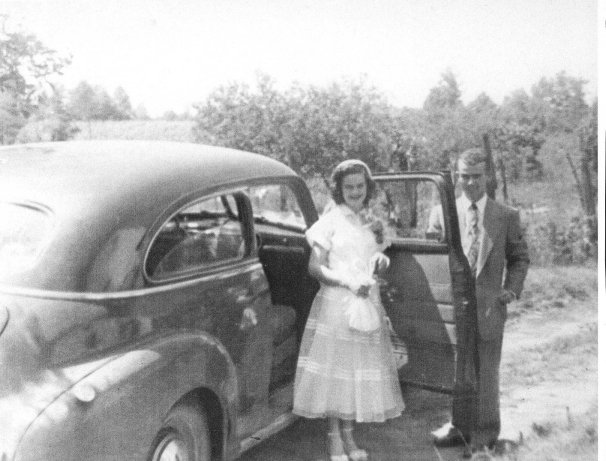 George and Maggie pose for a photograph on their wedding day back in the '50s. They are standing beside the 1948 Chevrolet they borrowed from George's brother, Jim, to make their trip from Chicago to Tennessee.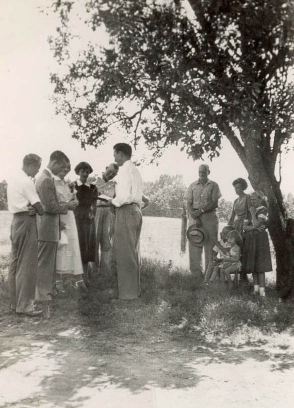 Family, friends, and neighbors gathered under the pear tree in the yard of Houston and Kellie (Worley) Wright for the marriage of George Wright and Madeline "Maggie" Hamilton.
Before returning to their jobs in Chicago, Maggie and George went back to her parents' home in the Teaberry Community of rural Kentucky, and George remembers that it seemed to take them forever to get there. He said he would ask Maggie every few minutes, "How much further is it?" and she would answer, "Just right on down here – just right on down here." And a few minutes later, he would ask again, "How much further is it?" and again, she would answer, "Just right on down here." Finally, after thinking that surely they had come far enough to be there, he asked again, to which Maggie said, "You missed it ... you've gone too far." Maggie said it was dark while they were making this trip, and part of the drive to her parents' home was up a creek bed, a place where not too many cars ever travelled. But they did finally get turned around and got to the Hamilton home where George met Maggie's parents for the first time.
Since getting married, George and Maggie's life has taken them many places, including a tour of duty with the United States Army. They lived not only in Chicago, but in Georgia, Alabama, and South Carolina, as well as California. Over the years, their family grew to include four daughters, and one son, Pam, Linda, Karen, Cindy, and Nathan. Their son, Nathan, was born here in Livingston, and after having four daughters, Maggie said before Nathan was born she felt sure this baby would more than likely be a girl, too. But after she gave birth to their son, Dr. Jack Roe, who was Maggie's doctor, told her she had a boy. She said she told Dr. Roe, "No, it's not – it's a girl, too," and in order to convince her, he had to show Maggie the "physical evidence". George's reply upon hearing he had a son was, "It's about time!" Maggie said everyone celebrated with them over the birth of a baby boy after having four daughters.
After working and living in various places, George, at one time during their marriage, considered studying to become a doctor, and enrolled at Tennessee Tech for a period of time; however, trying to work and go to school, along with supporting a family, proved to be too much of a strain, so his plans in the medical field had to be forgotten. During the years of their married life, Maggie and George have both had various types of employment and have lived other places before settling in Livingston.
Only after George was diagnosed with Parkinson's disease in 1974 did they decide to go into the greenhouse business. They did this thinking that they could maintain a business near their home and in addition, Maggie could be at home to care for George also. At the time he was diagnosed with this disease, they did not know what to expect, or how long George would be able to survive. All they did know for sure was that there is no cure for Parkinson's, and that only the symptoms can be treated. But that was 28 years ago, and George continues treatment for this disease.
Two hobbies George has maintained in spite of this disease are fishing and woodworking. He has handcrafted many beautiful items that include rocking chairs and hope chests. Lots of yards around Livingston display his handiwork at Christmas time with traditional Christmas figures and animals such as reindeer.
Former Tennessee Governor Ned Ray McWherter owns one of his beautiful handmade rocking chairs. And for each grandchild, he has made a beautiful banjo. He told me he doesn't know how to play one, but after Maggie bought one at a yard sale, he decided to try his hand at making one, and after seeing his work, it's unbelievable what he's accomplished.
George told me that fishing is something he has enjoyed doing all his life, but gave it up for a period of time when he realized his children were growing up, and he needed to spend more time with them. After the children were all grown, he began fishing again, and because of the problems Parkinson's creates with George's physical abilities, he's had a couple of close calls. One just recently could have turned out for the worse. The first close call was several years ago when he had gone out to the city lake to fish. When he parked his car, he evidently failed to get the gear shift completely into park, and after walking down the hill to begin fishing, he said he heard something, and looked up to see his car coming over the hill at him. He tried to stop it, and when he realized he couldn't, he did manage to get out of the way before it ran him over. The car ended up in the lake. The more recent mishap occurred also at city lake where he lost his balance and fell in. Because of the effects Parkinson's disease has had on George over the years, he was not able to get his head above water, and only because he was able to maintain his cool and not panic, was he saved from drowning. He realized that the only way he was going to survive was to try and crawl back to the bank. Somehow he accomplished this, but he said if he hadn't been able to remain calm, he might not be here today. But Maggie says that guardian angels are watching over them, and she knows this for sure, not only because of the incidents while George was fishing, but also because of one day when George was in his woodworking shop and a van pulled up and parked. A lady who was in the van got out and just happened to look inside George's woodworking shop and discovered George lying there on the floor. George asked the lady if she would go to the greenhouse and get his wife to come help him, but it was the lady's husband in the van who came and helped George up while the wife went to get Maggie. The couple later told George and Maggie they had no idea why they stopped there, that neither one of them were interested in flowers, but for some reason, they did stop, and lucky for George, the lady looked in and saw that he had fallen. This couple turned out to be the present day owners of the Cedar Hill Resort, the very place where George and Maggie spent their honeymoon.
George and Maggie, who were on a trip to Celina a few years ago to try and find the little restaurant where they had their first meal together as husband and wife, stopped by Cedar Hill Resort and thanked the couple for helping George that day. George has also made a couple of interesting catches while fishing, one being a lady's purse that was evidently stolen and weighed down with rocks before being tossed in the city lake. After George reeled it in, and with the help of the sheriff's office, the purse was returned to its rightful owner. On another occasion, George got a lure tangled up in a tree branch, and when he jerked it free, it pierced his ear in exactly the spot where an earring would have gone. The nurses in the doctor's office still laugh about it today, even though it happened 6 or 7 years ago.
Maggie told me that the one thing their story should tell was that in spite of the fact that they were told that their marriage would never work, that they were too young to get married, and that they hadn't know each other long enough, that their love-at-first-sight romance would never make it, these predictions couldn't have been more wrong. One of their friends who advised them not to get married was in the crowd of those who attended George and Maggie's 50th wedding anniversary. Maggie said, "It's been a good 50 years, and we've been very blessed."
Their family has increased to include four grandchildren and two great-grandchildren. And for anyone who knows this couple, it's plain to see how very devoted they are to each other.
When I visited in their home just before the Christmas holidays, almost every room had not only a beautifully decorated Christmas tree, but lots of other holiday trimmings that turned their home into a Christmas wonderland.
In spite of having to deal with a disease that there is no cure for yet, their spirits are as bright and cheery as their home is. They are a wonderful example of what a good marriage and a happy family should be.
Thank you, George and Maggie, for sharing your story. You're both an inspiration to everyone who knows the two of you, and probably now to others who will read about you here.